For The Love Of StoriesBig Finish produce fantastic full-cast audio dramas for CD and download.
Iris's double decker goes digital!
25 February 2021
Two classic Iris Wildthyme tales enter the digital dimension, as they are made available to download for the first time ever.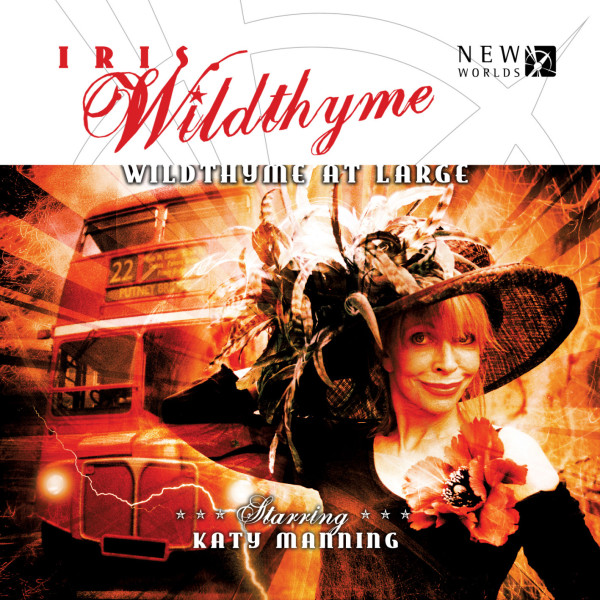 From today, Iris Wildthyme: Wildthyme at Large and Iris Wildthyme: The Devil in Ms Wildthyme are available at a new price on CD and for the first time as a download. These delightful dramas star Katy Manning as the eponymous Iris alongside her companions Panda (David Benson) and Tom (Ortis Deley), and tell the tales of a book signing gone bananas and a doctor who knows far too much, all with our heroine right at the heart of it all.
Wildthyme at Large and The Devil in Ms Wildthyme are now individually available as a collector's edition CD (at £7.99) or brand new digital download (at £5.99) HERE!
The pair of perilous plots are as follows:
Iris Wildthyme: Wildthyme at Large by Paul Magrs
A message to you from Panda:
'Apparently, it has been ten years since Tom's adventures aboard Iris Wildthyme's transdimensional double-decker bus. Tom has now settled into a life of writing weird and wonderful novels (his description; I call them schlocky) about his erstwhile friend in order to support himself and, of course, his best real friend, me! One small, highly intelligent and terribly sophisticated Panda.
Then, one night at a book launch, there was a ruckus in the signing queue. Suddenly, the loud-mouthed floozy of the multiverse was back in his life, no our lives! I ask you, how rude is that? Anyway, she embarrassed him in front of his fans and caused a punch up. Before Tom even knew it, Iris had entrusted him with her most precious possession, ridden off into the night with Robin Hood, and revealed that she was being hunted by evil forces from a higher dimension. Of course, they both needed me to save the day.'
Iris Wildthyme: The Devil in Ms Wildthyme by Stephen Cole
Another message to you from Panda:
'So in this adventure, we meet Dr Zachariah Marwick. Dear Tom finds out that he has started a special clinic for people with mysterious lumps but how come he knows exactly what they are before he's even examined them? And why is he so insistent that his patients join an exclusive speed-dating club? Trans-temporal adventuress Iris Wildthyme, meanwhile, is not herself. She's scared of her own shadow, it seems. Indeed, she's even afraid to leave her wretched bus. I, naturally, am terribly worried about her ­and about Tom as well. You see, he seems to have straw coming out of his head, like old stuffing. How can that be? And then they have the temerity to accuse me of getting all emotional about everything? Me! I ask you.
Anyway, together we three brave heroes must face demons from Iris's past, as an outrageous presence begins to assert itself over reality... one that seems to have been reading far more Dennis Wheatley than is strictly necessary.'
Wildthyme at Large and The Devil in Ms Wildthyme are available as collector's edition CDs (at £7.99 each) or now on brand new digital download (at £5.99 each), exclusively from the Big Finish HERE!
Big Finish listeners can also own these two tales in a bundle for £14 on CD or £10 on download.
Those with a valid order for these adventures on CD directly from Big Finish should automatically have the downloads appear in their Big Finish account once launched on the website. The "rebuild" link may need to be used before the titles appear.
Big Finish is currently operating a digital-first release schedule. The mail-out of collector's edition CDs may be delayed due to factors beyond our control, but all purchases of this release unlock a digital copy that can be immediately downloaded or played on the Big Finish app from the release date.