For The Love Of StoriesBig Finish produce fantastic full-cast audio dramas for CD and download.
Jacob Dudman's Eleventh Doctor Returns!
6 October 2022
A brand-new series of The Eleventh Doctor Chronicles begins with the first of four full-cast audio drama box sets released today from Big Finish Productions.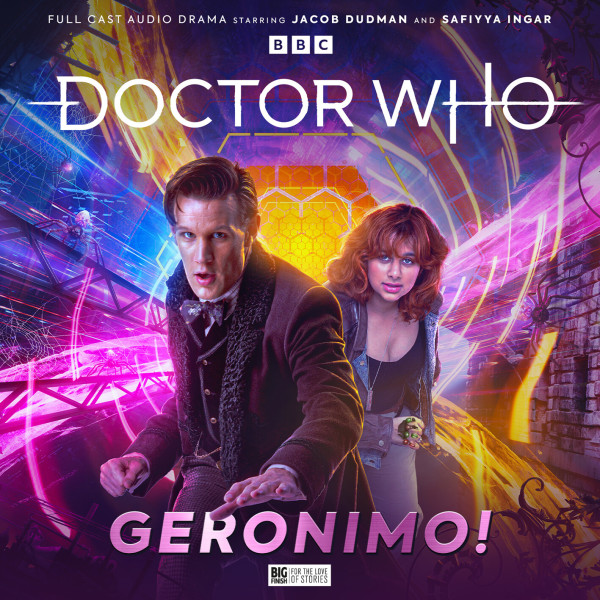 In Geronimo!, the Eleventh Doctor (Jacob Dudman) and his new companion, cybernetics engineer Valarie Lockwood (Safiyya Ingar), embark on their first three adventures together, beginning on 54th century Earth!
Out of retirement, and back traversing time and space, the Doctor has a new goal. Find the woman twice dead and save her from dying again. It's a monumental task, with all of history to search. He's going to need some help.
Valarie Lockwood knows what it's like to lose your friends. Trapped on a rig, she's doing everything she can to keep them alive. Except, it's too big a task just for her. She needs some help too.
Doctor Who - The Doctor Chronicles: The Eleventh Doctor: Geronimo! is now each available to own for just £19.99 (collector's edition CD boxset + download) or £16.99 (digital download only) here.
The three gripping stories are as follows:
The Inheritance by Alfie Shaw
For Patricia and Valarie Lockwood, it was to be an evening like any other. Dinner with a few friends, a chance to unwind and forget the horrors of the world. However, their plans are disrupted by the arrival of a mysterious stranger. A man who brings tragedy in his wake.
The House of Masks by Georgia Cook
For Valarie's first trip through time and space, the TARDIS takes them to one of the Doctor's favourite places: Venice, during Carnivale.
Unfortunately, not everyone is there to enjoy the party. Captain Tomasi has a murder to commit, and he needs Valarie's help to do it...
The End by Rochana Patel
Valarie/The Doctor is dying. Only the Doctor/Valarie can save Valarie/the Doctor, but for her/him to survive, the Doctor/Valarie will have to die in her/his place.
For the Doctor/Valarie, this is journey's end.
Jacob Dudman said: "It's very exciting to haveour own era [of Doctor Who] where the Doctor gets a new companion and get to be a part of that. It's been so much fun and we had such great energy in the studio. The cast is amazing!
"Valarie is great and exactly what the Eleventh Doctor needs. They have the feistiness that River Song gave the Doctor, while also being completely bad-ass in their own right. You're in safe hands with Valarie, and you could say the same about Safiyya as well. You know they're going to give an amazing performance."
Safiyya Ingar added: "If I told ten-year-old me that I was going to be a companion one day, they wouldn't believe it! I have a Doctor Who-specific bucket list of moments that I've wanted to experience with the Doctor and the fact that I'm getting to act quite a few of them is the best feeling. I just love it."
Director Nicholas Briggs said: "It's been delightful. I always look forward to directing Jacob because it's uncanny what he does. It's not an impersonation but a living breathing performance that happens to sound more like Matt Smith, than Matt Smith. It's fully malleable and adapts to everything. It's amazing.
"Safiyya has been brilliant and has breathed such incredible life to the fantastic character of Valarie. The interaction between Safiyya and Jacob was everything you want. They bounce off of each other beautifully. The actor playing the companion has to bring so much to the table and that's what Safiyya is doing. It's a joy to behold. Their performance is so raw and dangerous and I just I love that."
Big Finish listeners can save money by purchasing Geronimo! and the forthcoming box set, All of Time and Space together for just £38 (collector's edition CD box set + download) or £33 (download only). Alternatively, a bundle containing all four volumes in the series is available from just £69.
Please note that Big Finish is currently operating a digital-first release schedule. The mailout of collector's edition CDs will be delayed, but all purchases of this release unlock a digital copy that can be immediately downloaded or played on the Big Finish app from the release date.