For The Love Of StoriesBig Finish produce fantastic full-cast audio dramas for CD and download.
Listeners' Title for September - Epoch
1 September 2018
In celebration of Benny's 20th anniversary, for the whole of September you can pick up the first Bernice Summerfield box set, epoch, at just £4.99 on download. Benny took her first steps into this new age in 2011, why not rediscover it today†¦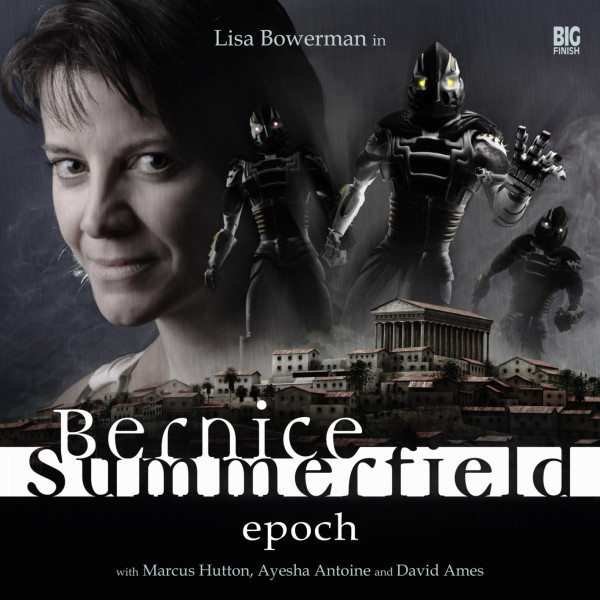 Bernice Summerfield's first big box set adventure, epoch, saw her swinging into Atlantean society, and this month you can pick it up on download at a special offer price.
Producer of Benny's adventures at the time, Scott Handcock, tells us more: "epoch picks up where Benny's last adventure – Dead Man's Switch – left off with Benny heading towards a planet she recognised as Earth, but that had (for whatever reason) been designated Atlantis. And, as we'll find out, it's exactly as you'd expect.
"We have mythical sea monsters, flying horses, vengeful gods – but it's all a little too authentic for Benny's liking. So, although each of our four plays tells an individual story, they contribute to a much wider plot: namely, why does Atlantis exist the way it does? Who's responsible for the changes? And how can Benny stop it and make it back to her own time and place...?"
The box set also introduces the character Ruth, played by Ayesha Antoine, another historian who helps Benny in her Atlantean adventures (and who may just be making a reappearance in another release this month…!).
Lisa Bowerman told us all about the Legacy of Bernice Summerfield back in September 2011, in Vortex issue 31: "...it's funny with Benny, you never think it's going to survive beyond a certain point and every time it makes its money back. And what's heartening is that I do dip into the forums every so often, and you see that people are still leaping on board. They'll keep on saying, 'Bernice is one that I keep putting off, but now I'm coming on board. Where should I start, what's the hopping-on point?', which is a point of this box set.
"Hopefully it'll whet people's appetite to try some from previous years because it's thirteen years now. That's terrifying…"
And of course, this month sees Benny returning in fine fashion in her 20th anniversary year, with not one but two new box set releases, The Story So Far Volumes One and Two.
From growing up in a military academy (in which Benny is played by Emily Laing), to reacquainting herself with former beau Jason Kane (plus the Grel! Good fact!), and a sojourn at the Braxiatel Collection (with Miles Richardson back as Irving Braxiatel), it's a trip down memory lane in The Story So Far Volume One.
And in The Story So Far Volume Two Benny crosses paths with an incarnation of the Doctor played by Michael Jayston (I wonder where we've met him before…), a reunion with Ruth where they meet the Drahvins (first seen in the Doctor Who TV series episodes Galaxy 4), and a mysterious Professor played by David Warner. Could the Unbound Doctor be returning?
Make sure you get these box sets at their pre-order discounted price before their release later this month!