We love StoriesBig Finish produce great full-cast audio drama for CD and download, featuring many popular television fantasy series.
Listeners Title - The Claws of Santa
1 December 2018
You better watch out, you better not cry†¦ Iris Wildthyme is coming to town! The Listeners Title for December is the perfect festive story as Iris tries to find her best friend Panda before Christmas Day begins†¦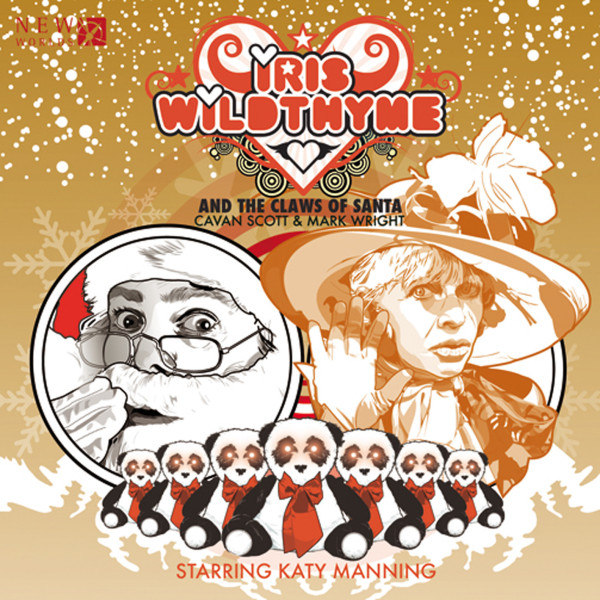 This month's Listeners Title, Iris Wildthyme and the Claws of Santa, is available for the whole of December at just £2.99 on download starring Katy Manning as Iris Wildthyme and David Benson as Panda.
It's going to be a blue Christmas for Iris Wildthyme. Her best friend, Panda, is lost in time and space and the only festive cheer she can find is at the bottom of a glass. If that wasn't enough, this year's number one toy is trying to kill her!
From a futuristic planet-sized shopping mall to the frozen wastes of the North Pole, the search for Panda leads Iris to a fiendish plot that threatens to ruin Christmas for the entire multiverse. With only a jobsworth security droid to help, Iris turns to the one man who can save the season of goodwill – Saint Nick himself. There's just one snag; Santa Claus is a broken man...
With psychotic elves, exploding shoplifters and more tinsel than you can shake a bottle of Babycham at, this is going to be the Mother of all Christmases – and you're all invited!
In the December 2009 edition of Vortex, Katy Manning told us about her favourite Christmases ever: "My best has to be the first I spent with my twins. Then there was the time we spent Christmas in New York with Liza [Minnelli]. Kay Thompson, that fantastic old singer, sang her rendition of Jingle Bells to my children. She must have been 90 and in a wheelchair, but she still had her feather boa and dark glasses.
"Then there was the time that Natalie Cole came to one of my parties and sang Christmas songs on the piano accompanied by my little dog who insisted on running around with a squeaky pig in his mouth!"
Iris Wildthyme also features in another magical story this month in the Doctor Who Main Range release, Muse of Fire. Starring the Seventh Doctor, Ace, Hex, Iris and Panda, things are about to get very surreal…
Oooh la la! It's been a long time coming, but the Doctor is about to be reunited with Iris Wildthyme! They're both in 1920s Paris and everyone's flocking to Iris's salon.
But wait...! What's that noise..? Thud thud thud...! It's the soft, approaching feet of a small and acerbic Art Critic Panda...!