For The Love Of StoriesBig Finish produce fantastic full-cast audio dramas for CD and download.
Louise Jameson and Christopher Eccleston Unite!
31 March 2023
Story and cast details are today revealed for the first volume of the forthcoming third series of Big Finish's Ninth Doctor Adventures, due for release in May 2023.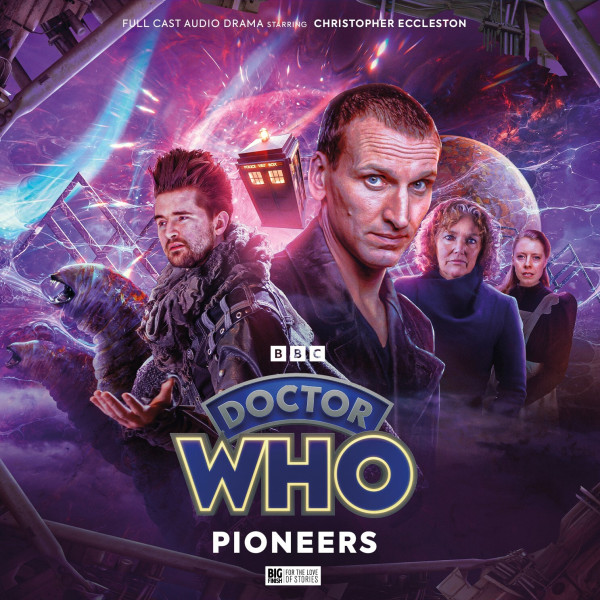 Christopher Eccleston returns as the Doctor in a brand-new box set of three full-cast Doctor Who audio dramas and works with classic series actor Louise Jameson for the first time.
Louise Jameson, who joins the adventure as Fiacra, the leader of a generational spaceship, said: "It's been an absolute joy and privilege to work with Christopher Eccleston. I'm a bit of a fangirl."
Christopher Eccleston added: "And I'm a bit of a fanboy. It's been lovely. We have a wonderful director who's good at matching people."
Also returning, after debuting earlier this year, are Adam Martyn (as Callen) and Harki Bhambra (as Doyle, the talking dog) for one more trip with the Doctor in The Green Gift (a sequel to the 1973 Doctor Who TV story, The Green Death).
Adam Martyn said: "I was stunned when I got the email and I'm thrilled to be back. Christopher Eccleston was my Doctor as a child and he's one of the reasons I got into acting. It's very special. And writer Roy Gill has done another fantastic job. He's smashed it."
Harki Bhambra added: "It was really nice to have another crack at it. We had a really good team and rapport in the first place. It's been brilliant. Christopher Eccleston is such a nice person to work with and he makes you feel so welcome and comfortable."
Doctor Who – The Ninth Doctor Adventures: Pioneers is now available to pre-order as a collector's edition 4-disc CD box set (+ download for just £29.99) or as a digital download only (for just £22.99), exclusively here.
The Doctor meets many remarkable people on his travels – those at the forefront of innovation and exploration.
From a deep-space colony ship seeking safe haven, to the frozen Arctic wastes, and the foundation of ideas which will touch the lives of millions – the Doctor is there to lend a hand to the human race's greatest pioneers!
The three exciting adventures are as follows:
The Green Gift by Roy Gill
Seeking a new home for Callen and Doyle, the Doctor lands on a vast spacecraft: The Greenwood.
The ship is nearing the end of its long journey but what is the price of this voyage? Who is really in charge? And what legacies from Old Earth might be travelling with them?
Northern Lights by Robert Valentine
The Doctor crashes to Earth and finds himself in the Arctic – but not quite alone. The Aurora Borealis are even more unearthly than usual...
Intrepid explorer Fridtjof Nansen is trying to get home as alien forces close in. The Doctor knows Nansen has a part to play in history – can he save the future?
The Beautiful Game by Katharine Armitage
The Doctor decides to treat himself and attend the historic meeting which founds the football league. But he arrives a week early!
Instead, he must enlist the help of a hotel maid to battle an obsessive alien before it consumes everything that will ever be connected to the beautiful game...
Big Finish listeners can save money by pre-ordering all four volumes of the third series together in a bundle for just £108 (collector's edition CD box set + download) or £88 (download only).
All the above prices include the special pre-order discount and are subject to change after general release.
Big Finish listeners can still purchase the previous series of The Ninth Doctor Adventures as triple LP vinyl bundles – limited to a pressing of 1,000 per volume. The first series is available for £140 and, until going on general release in April 2023, the second series is priced at just £132.
Both series can also be bought as a collector's edition CD box set + download bundle (£110 for series 1 and currently, £88 for series 2) or as digital downloads only (£96 for series 1 and currently, £78 for series 2).
Please note: the vinyl editions do not include any behind-the-scenes extras. However, listeners purchasing vinyl LP editions will receive a download of the story automatically and be given access to the CD edits as a bonus download. Episodes will be edited specifically for the vinyl format, presented as 2 episodes, one on each side, each with opening and closing music. In addition, all pre-orders of the vinyls will also receive the behind-the-scenes extras as a bonus download.
Big Finish is currently operating a digital-first release schedule. The mail-out of collector's edition CDs may be delayed due to factors beyond our control, but all purchases of this release unlock a digital copy that can be immediately downloaded or played on the Big Finish app from the release date.