For The Love Of StoriesBig Finish produce fantastic full-cast audio dramas for CD and download.
More Adric Audiobook Awesomeness!
1 March 2023
A brand-new immersive audiobook will join the line-up of Big Finish's highly-acclaimed Doctor Who – The Audio Novels range in July 2023.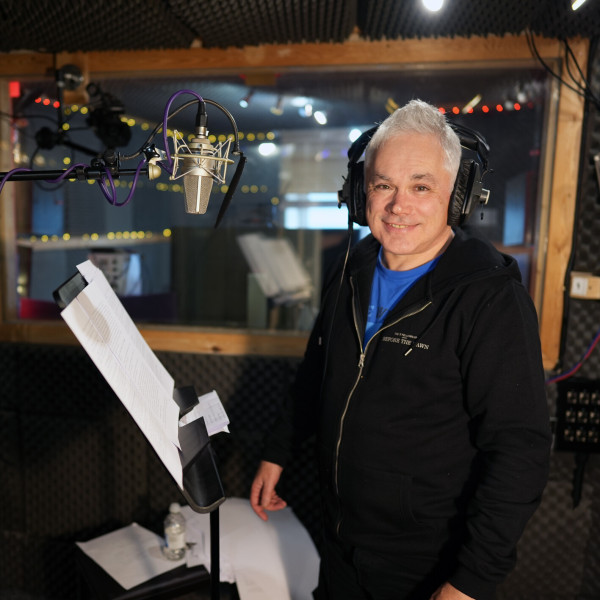 Matthew Waterhouse writes and performs Prisoners of London, an exciting six-hour-long enhanced audio adventure featuring Adric, Nyssa, Tegan and the Fifth Doctor.
At last, the TARDIS has got it right! The Doctor, Adric, Nyssa and Tegan have landed in London, 1982!
Look over there! Buckingham Palace. Look! There's Tower Bridge! It's only a tube journey to Heathrow! Tegan rejoices.
And yet... The Palace is home not to a Queen but to an Emperor! The familiar soldiers in busbies are robots. There is not just one Tower Bridge, there are four! There are 1950s police boxes on every street corner. And no-one has heard of Heathrow...
But the TARDIS is not wrong. It is London 1982, no doubt about it. As the Doctor tries to work out what's happening, he is accused of trying to assassinate the Emperor; Adric and Nyssa are kidnapped; and Tegan is sentenced to life imprisonment on the moon.
As if this was not enough, there is something fearsome waiting underground which will change the lives of every Londoner forever. All in London, 1982.
Doctor Who – The Audio Novels: Prisoners of London, featuring specially composed music and sound effects, is now available to pre-order for just £17.99 (digital download only), exclusively here.
Matthew Waterhouse said: "Classic Doctor Who is in my veins because I've been around it all of my adult life. I really enjoyed doing Prisoners of London as it's a fascinating and very exciting process. It's fun finding where the Tardis crew are going – somewhere an adventure can occur.
"I always try to write towards the spirit of classic Doctor Who so that everything makes sense based on what we already know of the characters while also trying to enrich and deepen them."
Producer David Richardson added: "I'm a huge fan of Matthew's writing on these audiobooks, and this was an instant commission after the success of his first, Watchers. Prisoners of London is another expansive and thrilling adventure full of so much detailed world-building and many rich and fascinating characters."
Praise for Matthew Waterhouse's Doctor Who – The Audio Novels: Watchers:
"Watchers is a fascinating second instalment in the Audio Novels as a range, telling a story that feels necessary to be told in this format. It flows from scene to scene incredibly well and is narrated wonderfully by Waterhouse. Nearly perfect."

– Indie Mac User

"Absolutely not the Adric story you expect. Absolutely the Adric story he and we deserve, combining trauma response and courage with epic-scale science fiction, surprising continuity beats and the Fourth Doctor at his peak. Excellent stuff. 9/10"

– Sci-Fi Bulletin
Big Finish listeners can also save money by pre-ordering all six titles in the first Doctor Who – The Audio Novels collection together as a bundle for just £99.
All the above prices include the special pre-order discount and are subject to change after general release.