For The Love Of StoriesBig Finish produce fantastic full-cast audio dramas for CD and download.
More Big Finish on vinyl!
21 September 2018
Following the sell-out success of Big Finish's limited edition Doctor Who stories on vinyl in Sainsbury's and HMV earlier this year, we have two more exclusive releases coming to stores soon.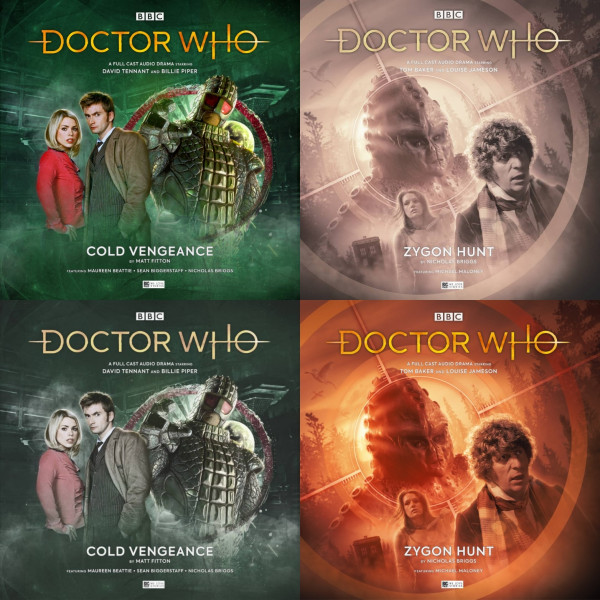 On 5th October 2018, HMV will release Doctor Who: Cold Vengeance starring David Tennant and Billie Piper. This is the second Big Finish vinyl release that Rose has appeared in following her debut in Infamy of the Zaross earlier this year.
The TARDIS arrives on Coldstar, a vast freezer satellite, packed with supplies to feed a colony world.
But there are cracks in the ice, and something scuttles under the floors. Soon, Rose and the Doctor encounter robots, space pirates and... refuse collectors.
As Coldstar's tunnels begin to melt, an even greater threat stirs within. An old enemy of the Doctor puts a plan into action – a plan for retribution.
Nobody's vengeance is colder than an Ice Warrior's.
Doctor Who: Cold Vengeance can also be purchased from the Big Finish website on download, or you can buy it as part of the Limited Edition version of The Tenth Doctor Adventures Volume Two.
For the second exclusive vinyl record, Sainsbury's will release Doctor Who: Zygon Hunt starring Tom Baker and Louise Jameson on 19th October 2018.
The Zygons returned to take on Tom Baker as the Fourth Doctor in this Doctor Who full-cast audio drama from 2014. The Doctor had previously encountered the Zygons and a Skarasen on Tulloch Moor, Scotland in the 1975 television story, Terror of the Zygons.
On the jungle planet Garros, Earth Forces Knight Commander-in-Chief Greg Saraton and his team are hunting gigantic beasts, for sport. When the Doctor and Leela arrive, they are caught up in a web of intrigue where there is no clear friend or foe.
What is Saraton's vital connection with Earth's Solar System's Defence Shield? Why are the giant reptilian birds of Garros attacking? What terrible secret lurks deep within the trees?
Before the truth can be revealed, a heavy price will be extracted and loyalties will be tested to the limit.
Of the Zygon Hunt release, the Fourth Doctor, Tom Baker said: "Well! I'm at the disposal of the fans who created me and sustain me. If they want me flat and round and vinyl and spinning too, well, I'm their Who to whit to woo."
Nicholas Briggs, Big Finish executive producer and director of both stories, as well as the voice of the Daleks on TV, says: "Mark your diaries because these are sure to sell out again. HMV and Sainsbury's are incredible partners to work with and because of the previous demand they've upped the production numbers on each release. I'm delighted for us to be a part of the vinyl resurgence and very pleased that, like our app, we're making it easy for people to listen to our stories."
Designer Mark Plastow said: "Adapting the format for these Big Finish releases has been a joy – I get to indulge in two of my obsessions. I adore Doctor Who and I adore vinyl, and putting the two together makes the world just that little bit better. Art really doesn't like being squeezed down to a measly 12cm, it wants to be big and bold, it wants to be on your wall!"
You can get Zygon Hunt on vinyl from selected Sainsbury's stores on 19th October 2018, and/or from Big Finish at £10.99 on CD or £8.99 on download.
Both of these fantastic releases will be numbered limited editions on coloured vinyl, only available in the UK, so mark the dates in your 500 year diaries!