2.1. The Tenth Doctor Adventures: Infamy of the Zaross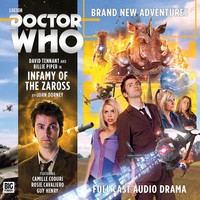 Released November 2017


Prices
| | |
| --- | --- |
| CD | US $15.31 |
| Download | US $8.99 |

Synopsis
This title was released in November 2017. It will be exclusively available to buy from the BF website until February 28th 2018, and on general sale after this date.
"10/10 If there's any one story in this set that would have made the perfect onscreen episode, it's 'Infamy of the Zaross'. Without giving too much away, its contemporary themes and self-referential nature are straight out of Russell T Davies-era playbook." Blogtor Who
"With plenty of one-liners for Rose and the Doctor, the dialogue is spot on, chirpy and enthusiastic, and it is easy to see why this was chosen to open the set." Cultbox
"A brilliantly self-indulgent romp encapsulating what Doctor Who does best, extra-terrestrial alien invasion and the concept of gaining popularity throughout the cosmos by whatever it takes" The Host Productions
"John Dorney really manages to take you back to 2006 within the first minute of the story." Gallifrey Archive
2.1 Infamy of the Zaross
When Jackie Tyler takes an away day to visit her old friend Marge in Norwich, she finds her holiday immediately interrupted in the worst way possible - an alien invasion! The infamous Zaross have come to take over the Earth.
Or have they? After Jackie calls in the Doctor and Rose to deal with the menace, it soon becomes clear that this is a very unusual invasion indeed.
The Doctor is about to uncover one of the most heinous crimes in the history of the galaxy. And if he can't stop it an awful lot of people are going to die.
Written By: John Dorney
Directed By: Nicholas Briggs
Cast
David Tennant (The Doctor), Billie Piper (Rose Tyler), Camille Coduri (Jackie Tyler), Rosie Cavaliero (Marge Ellmore), Beth Lilly (Jess Ellmore), Guy Henry (Ikron), George Watkins (Tanan / Steve), George Asprey (Leader)
Other members played by members of the cast
Producer David Richardson
Script Editor Matt Fitton
Executive Producers Jason Haigh-Ellery and Nicholas Briggs