For The Love Of StoriesBig Finish produce fantastic full-cast audio dramas for CD and download.
Murder, mystery and Martians await the Star Cops
1 November 2019
David Calder, Trevor Cooper and Linda Newton reprise their original roles as the Star Cops, in a continuation of the 1987 BBC TV series by Big Finish Productions.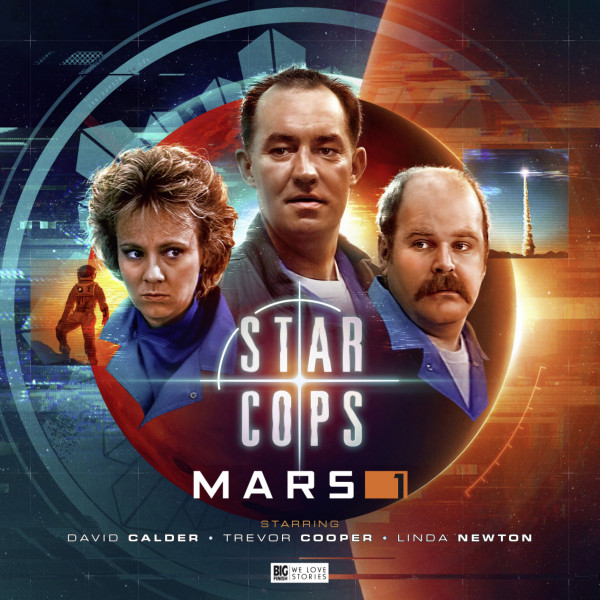 Donald Trump's dream of a space force comes true in Star Cops: Mars 1, a full cast audio drama released in December. Except the police officers travelling to the red planet in these stories are resolutely not from the USA.
It's the near future, and mankind has expanded its presence in space. Maintaining law and order beyond Earth is the responsibility of the International Space Police Force, known colloquially as the Star Cops: Commander Nathan Spring (played by David Calder), their leader; Inspector Colin Devis (played by Trevor Cooper), a brash, old-style copper; and Inspector Pal Kenzy (played by Linda Newton), a single-minded Australian.
Star Cops: Mars 1 will be released in December 2019 and is available for pre-order now from £16.99.
Andrew Smith, former police officer and script editor of Big Finish's Star Cops range, told us all about this new series of the science fiction police procedural: "In the first Star Cops: Mars box set, we join Nathan, Kenzy and Devis as they arrive on Mars on their mission to convince colonists they should have a police presence. It's taken them months to get there and they've got their work cut out for them. They are away from Earth and the Moon for two years. Soon, though, Nathan and his officers are involved in incidents of theft, violence and murder. They may get the chance to prove they're needed, if they can get through their investigations alive.
"David Calder, Trevor Cooper and Linda Newton do an amazing job bringing their characters – Nathan Spring, Colin Devis and Pal Kenzy – back to vivid life. They obviously love it. David is so energised about it while Trevor is one of the biggest Star Cops fans there is! He has a collection of Star Cops T-shirts. Linda even brought in some photographs and press cuttings from the TV days – they clearly have very fond memories and she's loving bringing the character back."
The Star Cops: Mars 1 box set comprises three new stories.
The New World by Andrew Smith
Nathan, Devis and Kenzy arrive on Mars after a six-month journey from Earth. They've come to set up a Star Cop base, but Mars is a very different environment from the one they're used to on the moon. They have their work cut out to convince some colonists of the need for law enforcement. They have no powers, no guns, and few friends. Nathan sees an opportunity to prove their worth when there are reports of water thefts and disorder at a colony near Olympus Mons. He and Kenzy are invited to investigate, unofficially. Then a body is discovered, and the Star Cops have to work fast to prevent tensions escalating into further violence.
The Shadow of this Red Rock by Una McCormack
Nathan and Kenzy find themselves marooned in the Martian desert with a prisoner whose friends will soon arrive to attempt a violent rescue. Help arrives in the form of a reclusive colonist. Soon they're all being chased across the desert by the prisoner's friends, who seem able to anticipate every effort to shake them off. Meanwhile, Devis has his own troubles. An attempt to come to his friends' rescue goes wrong, and he finds himself at the mercy of colonists who hold his life in their hands. Matters will come to a head in a perilous stand-off on the four-mile-high cliffs of the Mariner Valley canyon.
Whatever Happened to Gary Rice by Guy Adams
After the Star Cops receive a cryptic message about a man who may once have worked at a colony in the Argyre Basin, they make their way there to investigate. They find a co-operative community that thrives by growing an organic food source, which it sells to other colonies. But no-one seems to remember the man the Star Cops are looking for. Nathan visits a neighbouring scientific research base, where nutritionist Dr Julienne Grainger has information that may resolve the mystery of the missing colonist. As the Star Cops get closer to discovering the truth, there are those who are prepared to kill to keep it secret.
Star Cops: Mars 1 is available now for pre-order as a collector's edition box set at £19.99 or on download from the Big Finish website at £16.99.

The Star Cops: Mars 2 box set will follow in June 2020 and is also available for pre-order as a collector's edition box set at £19.99 or on download from the Big Finish website at £16.99.
Or you can save money with a bundle: buy both Star Cops Mars 1-2 as a collector's edition CD for £38 or on download for £33. Include a pre-order for the new audiobook, Star Cops: The Stuff of Life and buy the bundle as a complete collector's edition set for £47 or on download only for £42.