For The Love Of StoriesBig Finish produce fantastic full-cast audio dramas for CD and download.
Out Now: The Lives of Captain Jack
6 June 2017
John Barrowman comes back to life in his own adventures from the Worlds of Doctor Who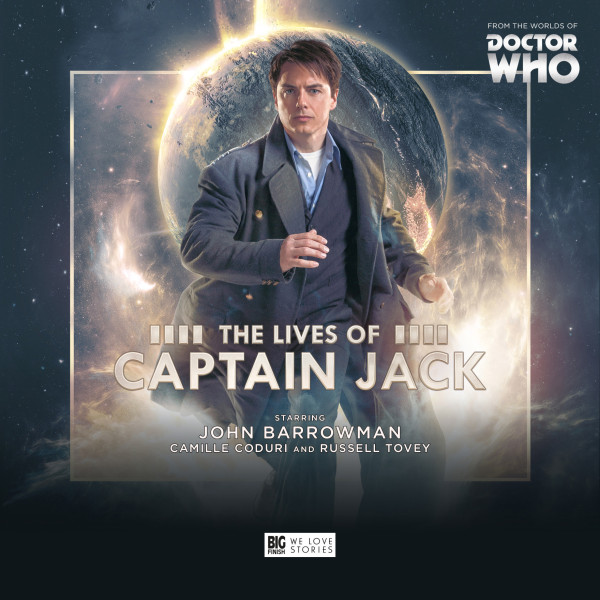 Starring John Barrowman, with guest stars Camille Coduri, Russell Tovey, Katy Manning, Sarah Douglas and Alexander Vlahos, The Lives of Captain Jack is out now!

"Life is about choices, who gets to live, who gets to die, who we love, who we hate… our choices shape the future of the universe."

Exploring chapters of Jack's life not seen on-screen, The Lives of Captain Jack follows John Barrowman's character from straight after Season 1 of Doctor Who's 2005 revival, in a Dalek-ravaged Earth, to a passionate night out with Alonso Frame (played by Russell Tovey), his origins at the Time Agency, and meeting his match with Jackie Tyler (Camille Coduri).
Writer Guy Adams gives us a little teaser, "Most of us haven't lived as interesting a life as Captain Jack Harkness. Thankfully. If James and I had been forced to dramatise the most exciting periods of our own lives, at least two of the discs would have been about cats. Writing dialogue for a national institution is always a joy too, like scripting a lither, sexier Royal Albert Hall as it leaps around the Universe bedazzling the natives."

Writer/producer James Goss fills us in on John Barrowman's japes in the studio: "John Barrowman is like working with a very professional force of nature who at any moment will do something naughty. We were sharing the studios with an incredibly posh, high brow Radio 4 drama who watched as he and Camille chased each other round the green room before he dashed off to buy our whole team ice cream. After John danced back into the studio, Sir Simon Callow muttered, "No-one ever buys me an ice cream".

"John is a proper celebrity - he went on Loose Women, fell off a stool, and still came to studio on time, giggling at having broken the internet. When we were recording down in Cardiff Bay, he was spotted by a devastatingly attractive young Doctor Who fan who couldn't believe what was happening. John lit up and not only made the guy's day, but also made sure his friends had a brilliant time. That's John - everyone loves him."

This four disc boxset (directed by Scott Handcock), is now available at £25 for CD and £20 Download. And because you can never have enough Captain Jack, Torchwood - the Conspiracy, as The Listener's Title of the Month, is available at £2.99 as a download!