For The Love Of StoriesBig Finish produce fantastic full-cast audio dramas for CD and download.
23 October 2023
Cover artwork and story details are today revealed for the forthcoming full-cast audio drama box set, Rani Takes On The World, from Big Finish Productions.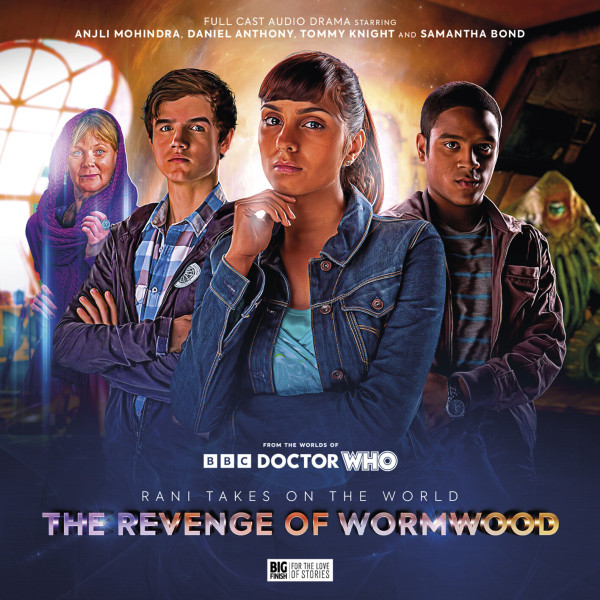 "Last night I dreamed I went to Bannerman Road again. I walked up the driveway, unchained the door, and climbed the stairs to the attic. To find her there, standing alone in the darkness. Looking just as she had done all those years ago."
Rani Chandra (Anjli Mohindra), Clyde Langer (Daniel Anthony) and Luke Smith (Tommy Knight) are reunited in January 2024. Rani Takes on the World: The Revenge of Wormwood contains three brand-new audio adventures continuing the story of the characters first seen on television in The Sarah Jane Adventures.
Returning to the character of Luke Smith for the first time since 2020's digital short, Farewell Sarah Jane, actor Tommy Knight said: "It was so exciting to hear that more stories and adventures were coming out of Bannerman Road. It made me so excited to get back into the booth, bring a little bit of Luke back out of me. It was a big part of my life growing up and I don't think I'll ever really forget how amazing that whole experience was."
In The Revenge of Wormwood, Samantha Bond (best-known for her iconic roles in James Bond and Downton Abbey) returns as Mrs Wormwood – leader of malevolent aliens, the Bane.
The Worlds of Doctor Who – Rani Takes on the World: The Revenge of Wormwood is now available to pre-order for just £19.99 (collector's edition CD box set + download) or £16.99 (download only), exclusively here.
The three exciting audio adventures in this box set are:
Time Schisms! by Lizbeth Myles
Podcast fan Anna thinks there's a time traveller working in her local post office. So, who else should she ask to investigate other than Rani Chandra? Unconvinced at first, Rani is shocked when an old friend warns her off. If UNIT don't want her looking into it, there must be something to the phenomena… But will Rani's quest for the truth drive a wedge between her and Luke?
The Star-Crossed Diversion by Alison Winter
After falling asleep on the night tube, Rani and Clyde wake in a nightmare – a future in which the Bane have succeeded in taking over the Earth. Humans are docile cattle, the planet's resources sold to the highest bidder. Bane Uncle Crispin believes all opposition has been crushed, but the new arrivals are ready to fight. Are they the last hope of resistance? And how can Rani and Clyde ever return home?
The Ghost of Bannerman Road by Jonathan Morris
13 Bannerman Road. The place where it all began, where Rani, Clyde and Luke fought alien menaces with Sarah Jane. Now it's locked up, derelict and under the watch of UNIT, because top scientists are mysteriously disappearing, and items of alien technology are being stolen from laboratories. An old friend is planning to make her return... and Rani and Clyde have to face their own ghosts.
Producer Emily Cook said: "I was chuffed with the reaction to the first Rani set. I was so excited for it to be released because it was an entirely new range, and I hoped it would strike a chord with fans, especially fans (like myself) who grew up watching The Sarah Jane Adventures as children. I received so many lovely messages after its release. I'm thrilled that people found it so moving and engaging."
Big Finish listeners can order Rani Takes on the World: Beyond Bannerman Road and The Revenge of Wormwood together in a bundle from just £33.
All the above prices include the special pre-order discount and are subject to change after general release.
Big Finish is currently operating a digital-first release schedule. The mail-out of collector's edition CDs may be delayed due to factors beyond our control, but all purchases of this release unlock a digital copy that can be immediately downloaded or played on the Big Finish app from the release date.