For The Love Of StoriesBig Finish produce fantastic full-cast audio dramas for CD and download.
River Song Four and Fourth†¦
3 July 2018
This September, River Song meets the Fourth Doctor and faces a threat that only River could hope to defeat. It's another time-twisting adventure in Series Four of The Diary of River Song.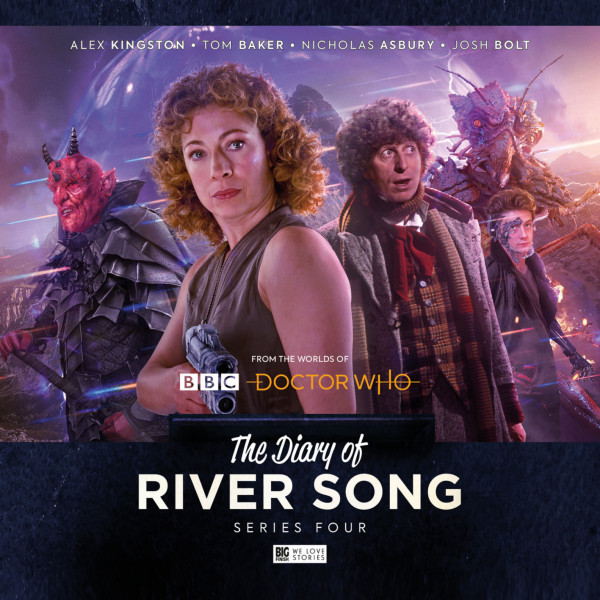 More details for The Diary of River Song – Series Four have been released. But is River ready to defeat another time-hopping species? And when she meets another professor from Luna university who knows River well, can River handle it?
When River Song visits a place where time has vanished, a genie escapes its bottle…
The Discordia are freed – nihilistic time pirates, in devilish form, altering the past to make sure they never lose.
This time, River may have met her match. And involving the Doctor can only make things worse…
4.1 Time in a Bottle by Emma Reeves & Matt Fitton
River is recruited by a rival to explore a star system where time no longer exists. Professor Jemima Still has picked up a signal from an impossible source and takes an expert team to investigate. But their mission is about to unleash hell upon the universe…
4.2 Kings of Infinite Space by Donald McLeary
With the Discordia on their tail, River and her friends run for their lives across time and space. But when your opponent can twist cause and effect to ensure victory at every turn, then escape may well be impossible.
4.3 Whodunnit? by Matt Fitton
Melody Malone finds herself in a Castle, with an assortment of strange companions. But guests are being murdered, one by one. Time is running out for a mystery to be solved. And Franz Kafka is hiding something in the attic.
4.4 Someone I Once Knew by John Dorney
River has tried in vain to keep the Discordia away from the Doctor. Now, as devils run riot through universal spacetime, her own past with her husband is being rewritten. There is one last hope for the universe. A love story – but one that must find an ending…
Script editor Matt Fitton explains: "For this series, we wanted to give River an adversary to match her, a real threat, so producer David Richardson and I set about thinking. For a time, we talked about possibly using the Daleks, but in the end decided on something original, so we created the Discordia – one of whom is the handsome devil you can see on the cover.
"With no Time Lords to police things, the Discordia are essentially time pirates who can go back and re-engineer themselves and their evolution, to make themselves as intimidating as possible – and make sure they always win.
"They look like devils in the Hieronymus Bosch tradition, and they have rotating gun arms which spin around to whatever weapon the occasion demands." More details can be found in this month's Vortex magazine.
Joining Alex Kingston and Tom Baker in this new release, we have the return of Fenella Woolgar as Professor Jemima Still, an old… friend... of River's. Listeners will recognise Fenella from Ghost Walk, the Fifth Doctor Main Range tale from February this year.
And Josh Bolt plays Spod, a battle cyborg and research assistant. Could River be about to get her own companion (apart from the Doctor, of course)?†¨†¨
The Diary of River Song – Series Four is available for pre-order now at £23 on CD or £20 on download.
The Diary of River Song – Series Four can also be purchased as a bundle with The Diary of River Song – Series Five, to be released in January 2019, at the price of £45 on CD and £40 on download (all CD purchases from the Big Finish website unlock a download exclusive from the Big Finish website and app).
More details on Series Five, where River faces off against four incarnations of the Master, can be found here.