We love StoriesBig Finish produce great full-cast audio drama for CD and download, featuring many popular television fantasy series.
21 February 2017
We look at what people have made of December's Doctor Who - The Diary of River Song Series 2...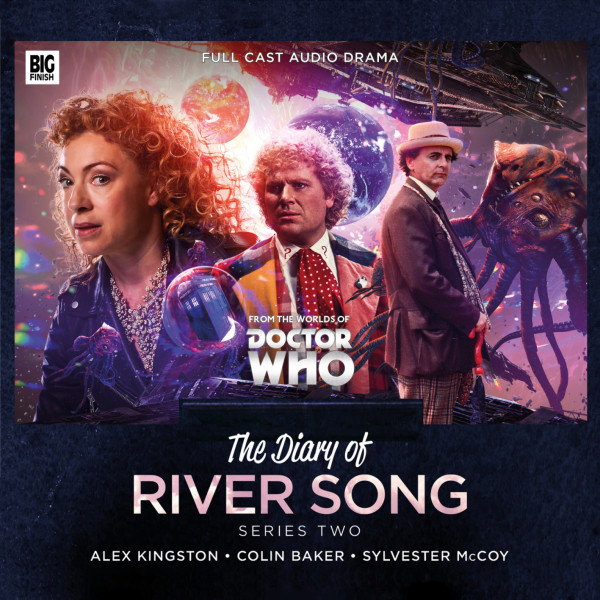 Released at Christmas, Doctor Who - The Diary of River Song Series 2 starring Alex Kingston, Colin Baker and Sylvester McCoy, and written by Guy Adams, John Dorney, James Goss and Matt Fitton has been warmly received by both listeners and critics alike.
We Are Cult kicks off with a glowing, "Well acted, written and directed, it's another fantastic audio outing for River Song – and two classic Doctors! ", going on to add, "Big Finish has made a business out of fleshing out character's from 'Doctor Who's past, so it makes sense for them to work their magic on some of the show's newer ones too."
Indie Mac User observes that the December release meant, "what a perfect way to kick of the new year!". Their look at the John Dorney story Five Twenty-Nine commented, "I think the biggest props on this one go to Salome Haertel, Alex Kingston's own daughter who plays the android daughter... This may be my favourite story in the set and given that it is the one without the Doctor, that speaks volumes about how well they have written River and these stories.".
"One River, Two Doctors – who could possible want more???" is Planet Mondas's opening perspective, while on the subject of the set's two Doctors, pointing out : "River and Seven, how does it work, how are they together? Well to quote Miss Song "spoilers" but they definitely have a spark," and "Old Sixie and River really sizzle together as they investigate the goings on at Golden Futures".
The two Doctors are a subject The Gallifrey Archive looks at in their review of The Eye of the Storm: "the absolute polar contrast between the way the Sixth and Seventh Doctors interact with River is an absolute genius move," going on to stress for those concerned: "...the conclusion of River with both the Sixth and Seventh Doctors are brilliantly written, and wraps up any questions people may have had about how the Tenth Doctor had no idea who she was".
Starburst considers the range both inside and outside Doctor Who tales, deciding: "The stories are perhaps less characteristic of River than those in the first volume, which took us to an archaeological dig and to a glamourous space-set party; instead they tell an epic and time-twisting tale that may be more expected of a Doctor Who adventure. While may affect the series' individual identity, it does allow for lots of fun to be had with River meeting two past Doctors."
"The Big Finish team know their characters so well and they know where the line between great storytelling and great fanservice is and this box set sits right on that line," opens Doctor Who TV, a review that concludes: "Please note that River is always treated as the protagonist. While we do get a chance to see everybody's point of view, neither Doctor is sidelined to "companion" or "side-kick" status. It's still her show, but it also feels more like a crossover at times with other characters from different eras being afforded their own time to shine... The Diary of River Song is highly recommended!"
Doctor Who - The Diary of River Song Series 2 was released in December on Download, in early January on CD, and is priced at £20 and £23 respectively. Note these prices go to £30 and £35 when the set goes on general release at the end of March. Doctor Who - The Diary of River Song Series 1 can be found here - or why not check out all of our Doctor Who - The New Series titles?
Bundles collecting our River Song releases with Doctor Who - The Churchill Years and Doctor Who - Classic Doctors, New Monsters can be found here, priced at £60 in either format, per collection.
We'll leave the last word on the subject to Sylvester McCoy: