For The Love Of StoriesBig Finish produce fantastic full-cast audio dramas for CD and download.
25 May 2022
Story details and cover artwork are today revealed for a brand-new box set of The Diary of River Song full-cast audio dramas, due for release in August 2022 by Big Finish Productions.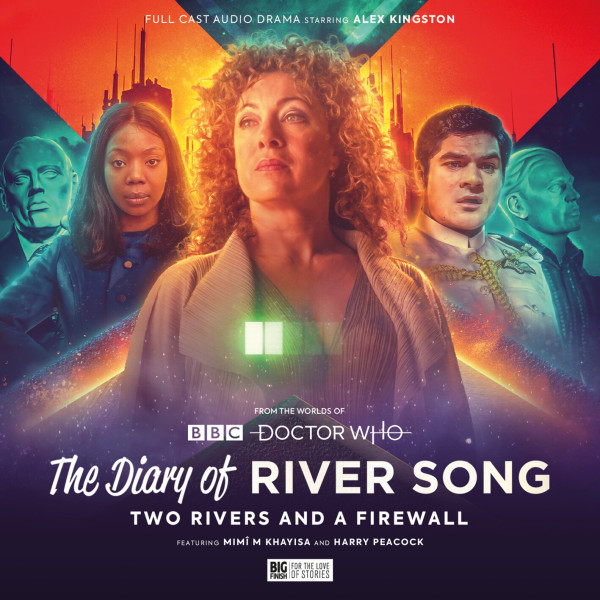 Alex Kingston returns as Professor River Song in four standalone tales from different chapters of her life as well as her digital afterlife — as briefly glimpsed in 2008's Doctor Who TV episode, Silence in the Library.
In these brand-new stories, the time-travelling archaeologist encounters ageless royals, teams up with a reckless version of herself and then — on a deserted shopping mall planet — faces the terrifying Autons for the very first time.
The incredible ensemble cast, led by Harry Peacock as Proper Dave, includes Paul Bazely (The Ipcress File, Feel Good), Victoria Ekanoye (Coronation Street, The Royals), Susan Momoko Hingley (Years and Years), and introduces Mimî M Khayisa (The Witcher, Star Wars: The Rise of Skywalker) as the Other River Song.
The Diary Of River Song: Two Rivers And A Firewall is now available to pre-order as a collector's edition CD box set (+ download for just £24.99) or a digital download only (for just £19.99), exclusively here.
The legendary Professor River Song travels between her own tomb and the afterlife, only stopping to shop and visit royalty along the way. All in a day's work for the great archaeologist.
Full details of the four adventures in this box set are as follows:
The Two Rivers by Tim Foley
River Song finds herself on an irresistible mission — investigating the tomb of the legendary River Song! Except the statues don't resemble her and the tomb contains the body of someone very different… or does it?
Beauty on the Inside by Lizzie Hopley
It would seem to be a perfectly ordinary painting of a forgettable royal family — so why did a biochemist smuggle it out of a closed colony at the cost of her own life? River is determined to find out.
Black Friday by Lauren Mooney & Stewart Pringle
Omnia Forum might just be the greatest shop in the galaxy and it's celebrating two hundred years at the heart of the retail sector. But when River attends the celebratory gala she finds it less 'everything must go' and more 'everything has gone'… apart from the Autons.
Firewall by Barnaby Kay
River is living her dream life with her dream husband. But every paradise has a serpent and this husband might not quite be up to the task.
Script Editor John Dorney said: "I think everyone loves the Autons, don't they? There's a reason they were chosen to launch Doctor Who's return back in 2005. They're a strong and scary monster and there's always more that can be done with them. River's a strong protagonist so she needs great enemies — and, as she'd never encountered the plastic menaces, Lauren Mooney and Stewart Pringle's idea was impossible to turn down.
"Lauren and Stewart have been doing great work for some time, both at Big Finish and in the wider writing world. It seemed a no-brainer to bring them into a series like The Diary of River Song and they felt a perfect fit from the get-go."
Co-writer of Black Friday, Stewart Pringle said: "We were really excited to write something that was funny, action-packed and with wild scenarios — all of the elements that feel intrinsic with that River Song character.
"I'm absolutely obsessed with the Autons. Spearhead from Space (1970) and Terror of the Autons (1971) are favourite Doctor Who stories of both of ours. We've always felt like the Autons were the most exciting of the classic villains and have always loved it when they've come back in modern Who."
Co-writer Lauren Mooney added: "I remember being so excited when I found out the Autons were going to be the monster in Rose (2005) — it's one of my earliest Doctor Who memories as a child. I thought it was perfect. This is only our second Big Finish story and the first opportunity we've had to bring back an existing creature — so it has to be the Autons."
The Diary Of River Song: Two Rivers and a Firewall is now available to pre-order for just £24.99 (as a collector's edition CD box set + download) or £19.99 (download only), exclusively from the Big Finish website.
Big Finish listeners can save money by purchasing this box set in a bundle together with The Diary of River Song: New Recruit for £48 (CD + download) or £39 (download only).
All the above prices include the special pre-order discount and are subject to change after general release.
Big Finish is currently operating a digital-first release schedule. The mail-out of collector's edition CDs may be delayed due to factors beyond our control, but all purchases of this release unlock a digital copy that can be immediately downloaded or played on the Big Finish app from the release date.