We love StoriesBig Finish produce great full-cast audio drama for CD and download, featuring many popular television fantasy series.
Second Doctor Companion Chronicles
20 June 2018
Out today are four new adventures told by the Doctor's nearest and dearest - his assistants, his friends, his companions. With Polly and dinosaurs, Leela meeting the Second Doctor and Ruth Matheson saving the world with Zoe, these new stories aren't to be missed!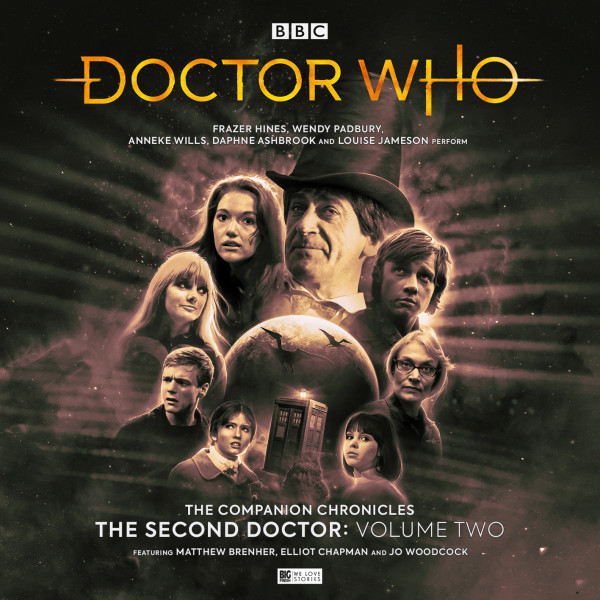 Four new adventures from the era of the Second Doctor await Jamie McCrimmon, Polly Wright, Ben Jackson, Leela and Zoe Heriot in Doctor Who The Companion Chronicles: The Second Doctor Volume Two – out now.
The Curator's Egg by Julian Richards
Zoltan Clarkson (Eccentric Billionaire, Cybernetics Tycoon, Museum Curator) had a dream of a domestic dinosaur in every home. He bought the empty county of Dorset to work on this dream and develop cyborg dinosaur hybrids in a safe, contained environment.
With the Doctor and Ben chasing monsters at sea, Polly has only a socially awkward scientist and the world's friendliest dog to help her prevent the rise of the ultimate predators…
Dumb Waiter by Rob Nisbet
The Doctor and Victoria attend a civilised garden party. But their genial hostess, Mrs De Winter, is convinced that the garden conceals a secret; something about Carlos the head waiter who never speaks.
The hidden truth can be glimpsed by people less accustomed to the mask of politeness and cake. People like Jamie. And people like Leela, the mysterious warrior of the Seventeen…
The Iron Maid by John Pritchard
The TARDIS has arrived in France in the fourteenth century – a time of devastation and despair. In an empty church beside a crowded graveyard, Zoe meets a woman who claims to see a dreadful future waiting for the world.
The Tactics of Defeat by Tony Jones
In the rain-swept jungle of Belize, Captain Ruth Matheson and Zoe Heriot are both about to discover just what sacrifices they are prepared to make when faced with a seventeenth century threat that might just spell death for millions of innocent people.
Does the end justify the means? Sometimes winning feels like exactly like losing…
The Second Doctor Volume Two box set is available now at £15 on download or £20 on CD. Included with these Companion Chronicles are over 90 minutes of extended extras available to download from the website with every CD or download purchase. There's also some Big Finish exclusive music downloads, including a suite from The Iron Maid by David Roocroft, and some of Rob Harvey's music including the much-praised composition for the trailer released earlier this year.
Don't forget to check back on the Big Finish website for more information on next year's The Companion Chronicles: The First Doctor Volume Three, starring Carole Ann Ford as Susan, Mark Edel-Hunt as Virgil, Anneke Wills as Polly Wright, Elliot Chapman as Ben Jackson and David Warner as Allie.