We love StoriesBig Finish produce great full-cast audio drama for CD and download, featuring many popular television fantasy series.
Seventh Doctor and Mags meet Ace
11 June 2019
Ace (Sophie Aldred) summons her friends the Seventh Doctor (Sylvester McCoy) and Mags (Jessica Martin), the Vulpine punk werewolf formerly of the Psychic Circus, to join her on a deadly mission in one of the foulest spots in the galaxy... Camden Town!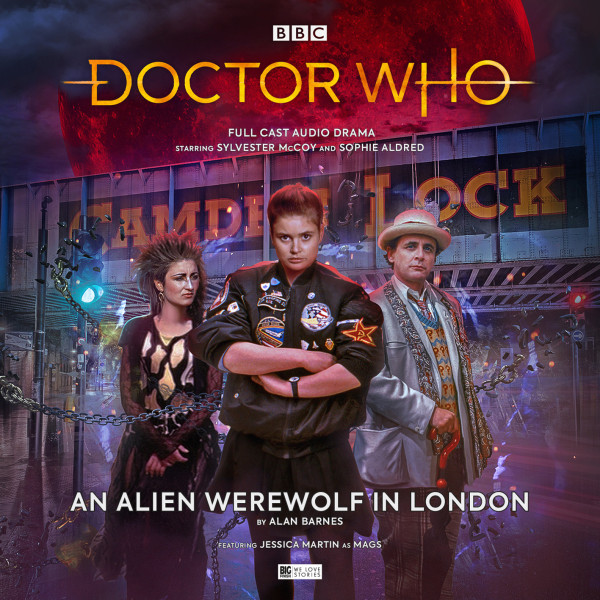 Doctor Who: An Alien Werewolf in London is out now with Sylvester McCoy as the Seventh Doctor, Jessica Martin as Mags and Sophie Aldred as Ace.
A space-time summons brings the TARDIS to the strangest place Mags has yet visited. A haven for the freakiest freaks and the weirdest weirdoes: Camden Lock, London, in the early 1990s.
But there's a reason why former TARDIS traveller Ace has brought the old gang back together. She's on a mission to rescue an alien being, held prisoner in a massive mansion...
A mission that can't possibly go wrong. Can it?
Writer of this story and script editor of the other Mags stories, Alan Barnes, told us more about reuniting Mags and the Seventh Doctor: "When we first met Mags the werewolf in the television episode, The Greatest Show in the Galaxy, she was the travelling companion of another space adventurer, the Captain. She was such an engaging character that it seemed unfair that she didn't go off with the Doctor in the TARDIS at the end, which would have been so 'right', dramatically speaking. It would have opened up some really interesting story possibilities too: how would it work, having someone who might turn into a savage beast as a companion?
"So creating more adventures featuring Mags with the Doctor was on my 'to do' list for years and years, and I was determined to make it happen before I left as script editor of The Monthly Adventures. And thankfully, the stars aligned!"
Doctor Who: An Alien Werewolf in London, the third of three adventures with Mags and the Doctor, is available now at £14.99 on CD or £12.99 on download. All CD purchases unlock a download option via the Big Finish app and the Big Finish website.
Or why not save money by getting a subscription to Doctor Who: The Monthly Adventures. When you subscribe you'll get 30% off the price, free specially recorded Short Trips stories, PDFs of the scripts, and extended downloadable extras. You can subscribe for either 6 or 12 releases.
The trilogy of adventures with Mags and the Doctor marks the final tour of duty for Alan as script editor on The Monthly Adventures. Everyone at Big Finish would like to extend a huge thanks to Alan for the great work on all the stories he has been involved with.
Producer David Richardson told us more: "Alan leaving The Monthly Adventures? It's the end of the era – we have so many wonderful stories, so many amazing characters to be grateful to him for. But it's not the end of Alan Barnes at Big Finish, we will make sure of that. He has plenty more scripts to write which are already in development. In truth, we will never let him go!"
Executive Producer, Nicholas Briggs said: "'Alan is one of my favourite human beings. And as a script editor he has been superb. I don't think I know anyone who understands character, plot and dialogue so well. He's always full of enthusiasm, sometimes beautifully curmudgeonly, but always fiercely devoted to giving the audience the most exciting, engaging experience possible."
Coming out next in The Monthly Adventures is the first of a trilogy of stories with the Sixth Doctor (Colin Baker) and Peri (Nicola Bryant) – reunited after five years!
What if you'd committed a truly dreadful crime but couldn't remember?
The Doctor takes Peri to the Memory Farm –a state of the art space station where hidden memories can be harvested and analysed. To their surprise, they find the station in lock-down and all its resources dedicated to probing the memories of an elderly man. Garius Moro may, or may not, have been responsible for the deaths of billions of people many years ago, but he simply can't remember.
The assembled representatives of two opposing factions, each with their own agenda, anxiously wait for the truth to be unlocked from Moro's mind. But when a memory does eventually surface, everyone is surprised to learn that it is of Peri...