We love StoriesBig Finish produce great full-cast audio drama for CD and download, featuring many popular television fantasy series.
17 April 2019
Released today is the first in a trilogy of adventures featuring Mags, formerly of the Psychic Circus, and the clownish and cunning Seventh Doctor.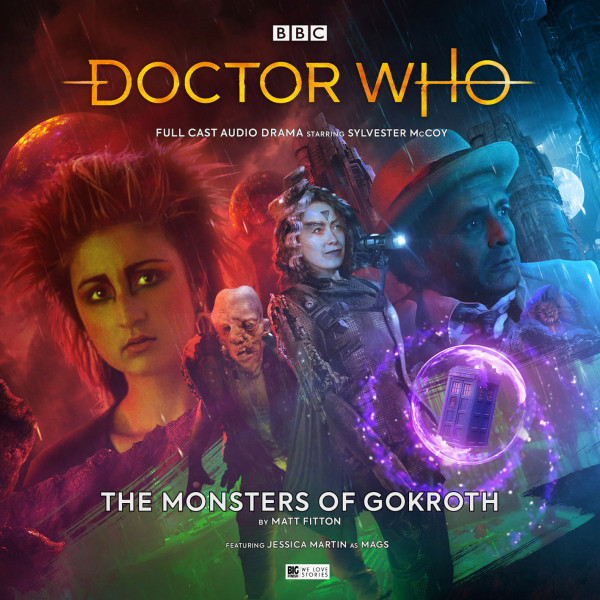 Doctor Who – The Monsters of Gokroth is out now.
The people of Gokroth live in fear of the monsters in the forest. Creatures with scales and fur, teeth and claws. But worse than these, perhaps, is the strange doctor who does unspeakable, unholy work in the high castle on the mountain…
A doctor who's about to receive a visit from an off-worlder. Mags, formerly of the Psychic Circus. A native of the planet Vulpana… with a monstrous secret of her own.
Jessica Martin, who reprises her TV role as Mags in these audio adventures, told us about returning to the part: "It's wonderful. I can't quite believe it, I have to retrospectively thank John Nathan-Turner and Steven Wyatt who wrote The Greatest Show in the Galaxy, which spawned so many wonderful characters. It's great to be back all these years later.
"In today's society we're always talking about people who are outsiders, people who suffer with the darkness within… it's something that everyone can relate to. The wonderful thing about these stories is that they truly expand the character of Mags."
And writer Matt Fitton is particularly delighted to have reached a momentous milestone in The Monthly Adventures as Doctor Who on audio at Big Finish started 20 years ago. He explains: "It's been an honour to contribute release number 250 in Big Finish's 20th anniversary year – and to get to do something brand new with the Seventh Doctor!
"Mags was one of the stand-out creations in The Greatest Show in the Galaxy, so it's brilliant to have Jessica bring her to life again here. On Gokroth, a world plagued by monsters, we meet an older, wiser Mags who's trying to find her place in the universe. And we'll discover that the Doctor has been tracking her, so maybe he can help her to do just that…"
Doctor Who – The Monsters of Gokroth is available now at £14.99 on CD or £12.99 on download. All CD purchases unlock a download option via the Big Finish app and the Big Finish website.
Or why not save money by getting a subscription to Doctor Who: The Monthly Adventures. When you subscribe you'll get 30% off the price, free specially recorded Short Trips stories, PDFs of the scripts, and extended downloadable extras. You can subscribe for either 6 or 12 releases.
Coming next in The Monthly Adventures we head back to Mags' homeworld of Vulpana, where a planet of werewolves compete for rule....
The Doctor has returned Mags, formerly of the Psychic Circus, to her native world: Vulpana.
Not the savage Vulpana that Mags was taken from, but Vulpana in an earlier era. The Golden Millennium – when the Four Great Wolf Packs, each devoted to one of the planet's four moons, oversaw the height of Vulpanan civilisation. A time when the noblest families of the Vulpanan aristocracy found themselves in need of new blood…
A golden age that's about to come to a violent end!
If you'd like to meet Jessica Martin in the flesh – and not in a vulpine form! – she will be attending Big Finish Day this June. Organised in partnership with the Hoovers, Big Finish Day is your chance to meet the creators and stars of the many worlds of Big Finish. The day includes interview panels, autograph opportunities, photo studio, writers' workshops and much, much more. Only a few tickets are left so get yours now if you'd like to attend https://www.derbyquad.co.uk/whats-on/events/big-finish-day-2019 – we look forward to seeing you there.