We love StoriesBig Finish produce great full-cast audio drama for CD and download, featuring many popular television fantasy series.
Shilling & Sixpence begins today!
3 September 2018
There's murder afoot and an unlikely new detective team is about to be formed†¦ The first episode of Shilling & Sixpence Investigate, starring David Warner and Celia Imrie, is out today and until 23:59 UK time 6th September you can download the first episode absolutely FREE!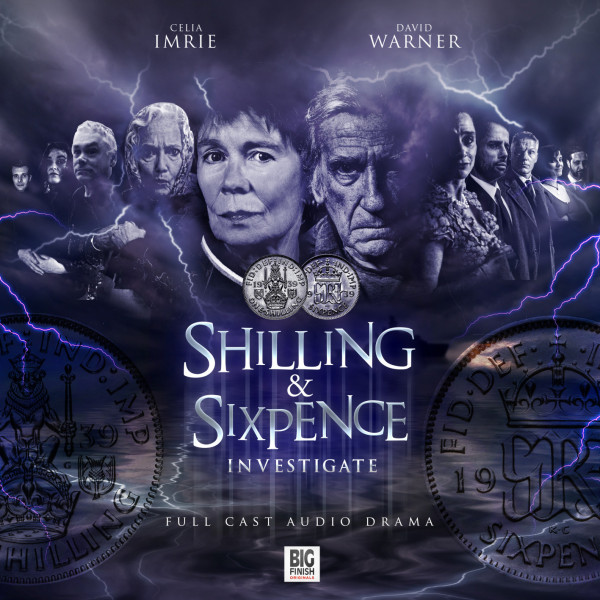 Make sure you download the first episode "The Missing Year" of Shilling & Sixpence Investigate – the latest release in the Big Finish Originals range – for free now! This offer is only available until 23:59 UK time the 6th of September 2018.
Based on Nigel Fairs's murder mystery serial that has been running for over 21 years (with new episodes performed every month in country houses, steam trains, jailhouses, castles and restaurants throughout the UK), Shilling & Sixpence Investigate takes place in a sometimes quirky, sometimes dark world where nobody is quite whom they seem...
February 1939. Desmund Shilling arrives in Morlington Hill, deep in the heart of Cornwall, having been given the post of Head of English at Morlington School for Girls by the hearty headmistress Lavinia Sixpence.
Not far away, at Boothby Hall, Inspector Cribbage and Sergeant Salt are investigating the horrific murder of Lord Pluck – who is to blame? His grieving widow, Lady Penelope? His impetuous son, Viscount Robert? The no-nonsense cook, or the handsome young school caretaker Joseph?
Miss Sixpence and Mr Shilling mount their own investigation, and very soon, horrible truths come to light…
"I would sum up Shilling & Sixpence Investigate as Agatha Christie meets Buffy the Vampire Slayer with a hint of Wilde," says director Samuel Clemens in Vortex magazine. "A sprawling murder mystery epic. Be sure to keep your ears pricked up for all the juicy details that are woven through it." Read more in August's free Vortex magazine.
Get the free episode "The Missing Year" by adding it to your shopping basket here.
Shilling & Sixpence Investigate is available as part of the Big Finish Originals range, a new wave of original drama launched to celebrate 20 years of award-winning audio publishing. The eight-episode series will be available on download (only) from Big Finish in September 2018 at a pre-order price of £17.
The complete Big Finish Originals range is also available in a pre-order Originals bundle for £135, as well as being available as individual downloads.
Keep checking the Big Finish website for more information on the other forthcoming Big Finish Originals.