For The Love Of StoriesBig Finish produce fantastic full-cast audio dramas for CD and download.
Short Trips Rarities and special offers
28 September 2018
Five new stories, previously only available to subscribers of the Doctor Who Main Range, have been released in the Short Trips Rarities range today. And to celebrate, we have a plethora of special offers from across all the Short Trips ranges.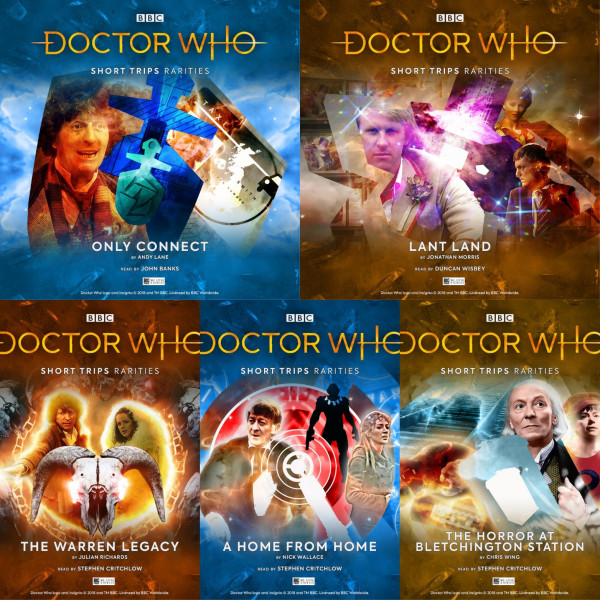 Five previously exclusive Short Trips adventures read by actors very familiar to Big Finish listeners have now been released under the Short Trips Rarities range, to give the chance for a wider audience to enjoy them.
These Short Trips Rarities releases are available at £2.25 each on download, only from Big Finish.
A Home From Home, a Third Doctor tale
A woman, a soldier, and a Time Lord walk into a bar. One of them is never seen again.
Where has the Doctor gone - and can he be rescued? Liz knows she's his only hope. But she's not the only hunter at large tonight...
Narrated by Stephen Critchlow
Written by Nick Wallace
The Horror at Bletchington Station, a First Doctor tale
The Doctor and Dodo seek shelter from a heavy storm in a rural Victorian setting, but it's not the thunder and lighting that's caused nearby railway labourers to flee in terror. Something has been disturbed, something that should have been left alone. But is that really the reason the Doctor's so distracted?
Narrated by Stephen Critchlow
Written by Chris Wing
Only Connect, a Fourth Doctor tale
James Willaker has been working late. He's tired. It's been a long day. All that awaits now is a taxi home before bed.
Conversations with taxi drivers are a factor of London commutes, indeed of every city.
They can't have any importance. They can't change the world. They can't affect the future.
Can they?
Narrated by John Banks
Written by Andy Lane
The Warren Legacy, a Fourth Doctor and Romana I tale
On a dark and stormy night, the Governor of a colony has some mysterious visitors. The Quell can make a particular problem go away, and all they ask in return is something that didn't exist in the first place.
On a dark and stormy night, Lord Samuel Warren has some mysterious visitors. The Doctor and Romana can make a particular problem go away.
That's if the Quell doesn't kill them all first...
Narrated by Stephen Critchlow
Written by Julian Richards
Lant Land, a Fifth Doctor and Turlough tale
Shortly after the TARDIS has materialised, the mysterious and mannered Simon and Joanne welcome their new visitors to an evening's entertainment involving Lant Land. But is all as it seems?
The Fifth Doctor and his companions Yvonne and Derek must find out...
Narrated by Duncan Wisbey
Written by Jonathan Morris
In addition, the first five of the Short Trips Rarities range are available at a special offer price of £1.99 per download.
And there are also a number of special offers on other Doctor Who Short Trips. The individual Short Trips from 2015–2017 are all now available at £1.99 per download.
You can also pick up Volumes 1–4 of the Short Trips for £3.99 each on download (and/or £9.99 on CD whilst stocks last). Each release contains eight fantastic adventures in space and time with the Doctor and his companions, featuring stories from many of Doctor Who's most popular authors from the worlds of television, print, comics and audio, as well as new talent – all read by your favourite Big Finish actors.
For example, why not try the Short Trips adventure, Rise and Fall, written by George Mann and read by William Russell.
On a distant planet, faces bloom in the air for a fraction of a second before disappearing. Will the Doctor and Ian solve the puzzle?
Or you can save money with a bundle. Get Short Trips Volumes 1–4 (that's 32 adventures in total) for £15 all together on download.
You can also get all of Volume 5, Volume 6 or Volume 7 of the Short Trips for £20 each, and there are two bundles of five of the Short Trips Rarities for just £8 each.†¨†¨
Get these offers at https://www.bigfinish.com/shorttripsoffer and use access code STORIES2018 (upper case) to access. These special offers will last until 23:59 (UK time) on 1st October 2018, so don't miss out!
†¨†¨More on the Short Trips coming out in 2019 very soon – so stay tuned!