For The Love Of StoriesBig Finish produce fantastic full-cast audio dramas for CD and download.
Special Offers on Big Finish Gems
23 October 2015
This weekend we're shining a light on a different corner of the Big Finish catalogue, with special offers on selected hidden gems - including The Adventures of Luther Arkwright!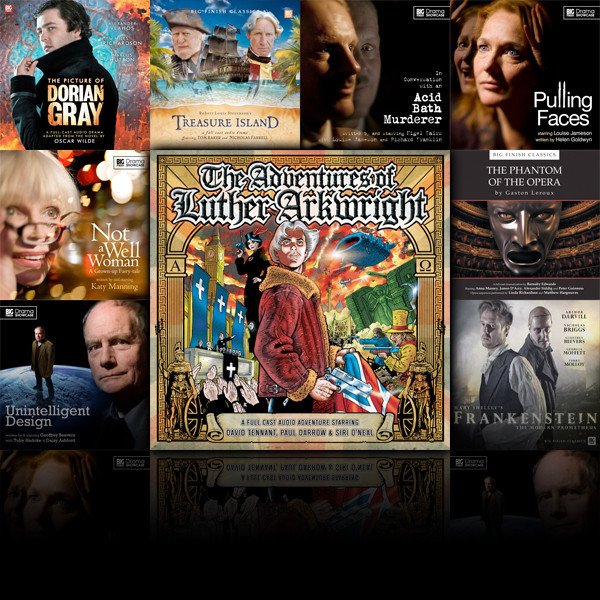 Big Finish is well known for our range of brilliant audio plays based on favourite TV series Doctor Who, Blake's 7, Dark Shadows and Terrahawks – the list is endless! But we're also proud to have created a whole range of releases that break this mould – and you can hear them this weekend with our range of special offers...
We start with the celebrated return of The Adventures of Luther Arkwright. Starring David Tennant as Bryan Talbot's comic book hero, this acclaimed release has crossed realities to become available again. Co-starring Siri O'Neal, Robert Jezek, Paul Darrow and India Fisher, you can pick up this triple-disc CD for £9.99 today.
Other worlds can be visited with our extensive Big Finish Classics range. Recently extended with the release of The Wonderful Wizard of Oz, these unique adaptations breathe new life into new classics, with guest stars including Tom Baker, Arthur Darvill, Georgia Moffett, Nicholas Briggs and Alexander Vlahos.
The early releases in the series can all be picked up at a bargain price. The Phantom of the Opera, Treasure Island and The Picture of Dorian Gray can all be yours for just £5 each on CD and Download, while Frankenstein: The Modern Prometheus can be picked up for £15 on CD and Download – with a special limited edition also available for at a special £25.
You can also pick up all four of these fantastic adaptations as part of a special bundle. The entire range on CD can be picked up £40 (with free UK postage and reduced international shipping) or £38 to download.
For more literary adventures, we've also chosen three releases from our extensive Sherlock Holmes range. Sherlock Holmes: The Speckled Band can be downloaded for just £2.99, whilst Sherlock Holmes: The Final Problem/The Empty House and Sherlock Holmes: The Hound of the Baskervilles can both be enjoyed for £5 each on CD, or £2.99 each to download.
Big Finish has also released a range of original plays featuring the cast and writers of our most popular series. Our Drama Showcase releases feature contributions from Colin Baker, Katy Manning, Louise Jameson, Richard Franklin, Geoffrey Beevers, Nigel Fairs and Toby Hadoke – and the whole first series can be enjoyed for just £5 each on CD or £2.99 each to download. The entire range can be picked up in a special bundle for £21 on CD (with free UK postage and reduced overseas shipping) or £12 to download.
And that's not all! Our offers continue with discounts on rarer releases, including Robert Shearman's acclaimed short story collection Love Songs for the Shy and Cynical, available as an audiobook on CD or download for just £5. Paul Darrow's reading of Terry Nation's classic children's novel Rebecca's World can be enjoyed for £5 on both CD and download, and our 'live' comedy special Fly Me To The Moon is just £1.99 on CD this weekend only – featuring the talents of Sylvester McCoy and India Fisher.
All these releases are just a taster of what Big Finish has in store! You can familiarise yourself with some of our other ranges on the website today, including Textbook Stuff Classic Poetry.
This wonderful range of readings brings to life the works of Robert Browning, Andrew Marvell, Christina Rossetti and Edward Thomas – with readers including Miriam Margolyes, Martin Jarvis, Nicholas Pegg and Barnaby Edwards. Each volume can be downloaded for £7.99, with a bundle of all four titles available for the special price of just £31.
There's much much more to be found for those who know where to look. You can even enjoy the special six-disc Yes Minister/Yes Prime Minister Collector's Pack for just £5! Hours of entertainment based on the classic BBC sitcom, starring Paul Eddington, Nigel Hawthorne and Derek Fowlds.
All these brilliant offers must end Noon Monday 26th of October (UK Time) – so order now, and discover these new worlds for yourself.