For The Love Of StoriesBig Finish produce fantastic full-cast audio dramas for CD and download.
Spies and Thrillers on special offer
17 August 2018
If you've never stepped into the world of spy thrillers before at Big Finish, now is the perfect time with some special offers. With the release of Callan last month plus The Avengers: Too Many Targets coming up soon, why not try a tale of agents, intelligence and subterfuge today?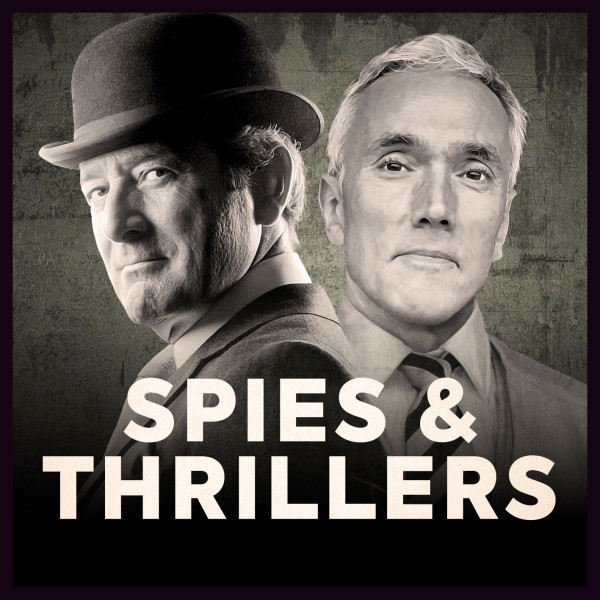 Head to page https://www.bigfinish.com/offers/v/eyespy and use offer code TOPSECRET to get a range of special offers on our spy stories. These offers end at 23:59 (UK time) 23rd August 2018, so don't miss out!
One of our biggest spy ranges is our classic The Avengers series. In 1961 The Avengers burst onto our television screens starring Ian Hendry as Dr David Keel and Patrick Macnee as John Steed. It began with a tragedy – and then pitted Keel and Steed against the underworld over the course of twenty-six episodes (of which only two episodes still exist in their entirety).
Enter Big Finish! Seven volumes of The Avengers: The Lost Episodes have been released bringing the TV series back to life on audio. Anthony Howell plays Dr David Keel and Julian Wadham plays John Steed. You can pick up the Lost Episodes with a 50% discount. Or save by ordering the entire collection of Lost Stories in a bundle.
For those familiar with The Avengers featuring the character Mrs Peel (played on television by Dame Diana Rigg), Big Finish has released two volumes of The Avengers – Steed and Mrs Peel, which recreate the comic strips from the 1960s on audio, as well as reprinting the material itself as a new graphic novel, all of which are now on special offer. You can order the comic strip adaptations and the comic book either together or separately in audio bundle.
And The Avengers will also return this summer in Too Many Targets, where John Steed is reunited with the Avengers – all of them! Make sure you pre-order this unique audiodrama.
Big Finish has also brought another iconic spy thriller series to life 50 years after it was first broadcast on television.
The Prisoner was a psychological experiment in an unforgettable series, in which hero Number Six, played on television by Patrick McGoohan, was constantly tested. The main antagonist, the sinister Number Two played by multiple replacements, would drive Number Six to extreme psychological limits, trying to find out why he resigned and what did he know?
Based on the classic ITV series, two volumes of The Prisoner have been re-imagined for audio by Nicholas Briggs, with a third volume out next year. And now you can get all three volumes available at their pre-order prices.
January 16th, 1967... A secret agent resigns, then wakes up to find himself imprisoned in the 'Village' – a bizarre community with a cheery veneer, but an underbelly of mystery and threat. All occupants of the Village have numbers instead of names, with our secret agent forced to accept the mantel of Number Six.
Or you can save by ordering The Prisoner Volumes One and Two and pre-ordering Volume Three in a bundle.
Another resurrected series from the sixties returns this month with Callan. This edgy gripping series by James Mitchell starred Edward Woodward as David Callan, an assassin who operated under 'The Section'. But Callan is an assassin with a difference, often operating against commanding orders, never trusting or being trusted by fellow spies or assassins, nor his sadistic senior colleagues in The Section. The only person Callan trusts is Lonely, the petty thief who has odour issues when nervous…
Callan Volume One was released last month with four adaptations from Callan creator James Mitchell's son, Peter Mitchell. Ben Miles takes on the role of David Callan, and Frank Skinner plays Lonely – make sure you pick up a copy before it goes up in price at the end of the month. Or save by ordering Volume One and pre-ordering Volume Two in a bundle.
And for those who like their spy thrillers more current, writer of The Omega Factor, Jack Gerson, also wrote four thrillers, and Big Finish was pleased to gain permission to adapt them into audiobooks.
The Treachery Game and The Assassination Run are read by Dan Starkey, The Fetch is read by Carolyn Skinner and The Evil Thereof is read by Barnaby Edwards. You can pick up each of these on download at £5 each. Or get them in bundles together at £10 for two.
Head to page https://www.bigfinish.com/offers/v/eyespy and use offer code TOPSECRET to get a range of special offers on our spy stories. These offers end at 23:59 (UK time) 23rd August 2018, so don't miss out!
And don't forget to check the bundles also available in these special offers.