The Fetch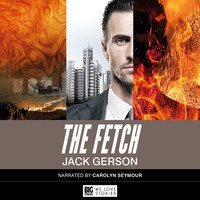 Released March


Prices
Download
US $9.99

Web Special Price!


Synopsis
This download-only title was released in March 2017. It is currently exclusively available to buy from the BF website.
'Edgy and disquieting throughout... a textured, evocative and absorbing listen... immersive storytelling.' Starburst.
It's the 1980s and Alistair Matheson is forging a quietly ambitious path in Government. All is going to plan until a brief encounter with a man who looks exactly like him throws Alistair's ordered world into chaos.
As this doppelgänger crosses his path time and again a series of events are set in motion with increasingly disturbing consequences. Is this double a spy? A conman? Or could he be something infinitely more sinister?
(Please note this is a significantly sized download-file - be aware of any data-charges your network may incur, and that you will need twice the filestore available on your computer or device to unzip the file)
Written By: Jack Gerson
Directed By: Helen Goldwyn
Cast
Read by Carolyn Seymour