For The Love Of StoriesBig Finish produce fantastic full-cast audio dramas for CD and download.
Star Cops - The Collective Strikes Back
6 December 2022
Details are today revealed for the second box set in the brand-new series of Star Cops full-cast audio adventures, due for release in April 2023 from Big Finish Productions.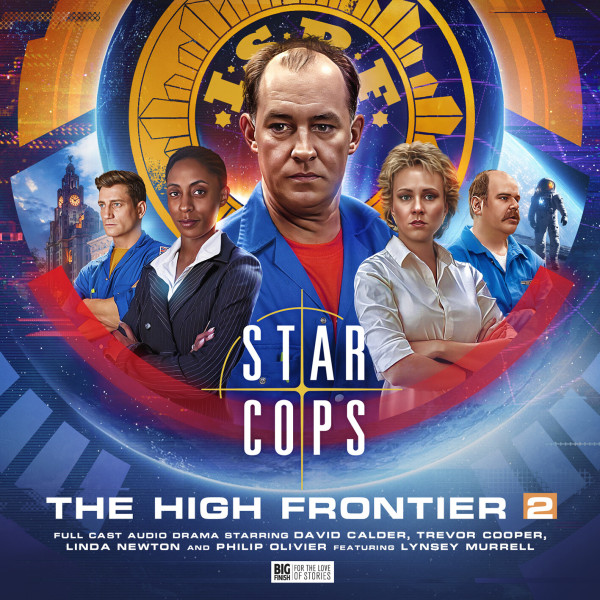 Chris Boucher's near-future detective series originally launched on BBC Two in 1987, and followed the crime-fighting escapades of the International Space Police Force.
In The High Frontier: 2, three of the original TV cast members return, with Laurence Olivier Award-winner David Calder starring (as Commander Nathan Spring), alongside Linda Newton (as Acting Chief Superintendent Pal Kenzy) and Trevor Cooper (as Inspector Colin Devis).
It's the near future, and mankind has expanded its presence in space. Maintaining law and order beyond Earth is the responsibility of the International Space Police Force, known colloquially as the Star Cops.
Nathan and his team step up their investigations into the secretive and ruthless criminal organisation known as the Collective. As they come closer to identifying who's in charge, with enquiries on Earth and in space, the Collective strikes back. The Star Cops must identify who is a friend and who is a deadly foe.
Philip Olivier (Brookside) also returns as the latest Star Cops member Inspector Paul Bailey. And guest starring in the stellar cast is Laura Rollins (Doctors), Lynsey Murrell (EastEnders) and Wilf Scolding (Andor, The One).
Star Cops – The High Frontier: 2 is now available to pre-order for just £19.99 (collector's edition CD box set + download) or £16.99 (download only), exclusively here.
Old Flame, New Fire by Alison Winter
Earth leave in Liverpool is disrupted for both Devis and Paul when a figure from Paul's undercover past comes back into his life. On Moonbase, an investigation into a contraband food additive leads Nathan and Kenzy into danger.
Grandma's Footsteps by Katharine Armitage
Kenzy enlists the help of an old friend on Earth to follow a trail that could lead to the unmasking of the leader of the Collective.
On the Moon, Nathan and Devis are dealing with a series of accidents that don't look very accidental - and that will force Devis to reveal a secret.
Escape and Evasion by Andrew Smith
The leader of the Collective is in custody on the Moon, with arrangements in hand for their transport back to Earth under armed guard.
But an escape plan is in place. And the Collective's operatives are prepared to kill anyone who gets in their way.
Script Editor and writer Andrew Smith said: "In Star Cops – The High Frontier: 2 we reveal the answers to the mysteries we set up in the first set. Most significantly, what is the Collective and who's behind it? Who can be trusted and who most definitely cannot?
"Once again, it's been a huge pleasure to immerse myself in the world of the Star Cops and to see what the other writers do with these compelling characters. It's authentic policing in a near-future setting, crime thrillers in which our heroes have to use their investigative skills and wits to discover the truth and try to avoid being killed along the way.
"The High Frontier was Chris Boucher's alternative title for Star Cops. It was an early and easy decision to use it for these two sets, as today we continue the series that Chris so brilliantly devised in 1987."
Big Finish listeners can catch up with the first half of this six-part series, Star Cops – The High Frontier: 1, and pre-order it together with the second box set in a bundle for just £38 (collector's edition CD box set + download) or £33 (download only).
All the above prices include the special pre-order discount and are subject to change after general release.
Please note that Big Finish is currently operating a digital-first release schedule. The mailout of collector's edition CDs will be delayed, but all purchases of this release unlock a digital copy that can be immediately downloaded or played on the Big Finish app from the release date.