For The Love Of StoriesBig Finish produce fantastic full-cast audio dramas for CD and download.
The Big Finish App - now available on iTunes!
11 May 2016
A brilliant upgrade to our Big Finish App is now available - iOS users can download today and enjoy the simple way of listening to your favourite stories!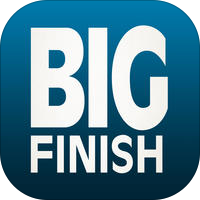 Featuring a brand new interface and sorting system, our app is designed to be the most convenient and simple way to enjoy your titles. The new version contains a number of improved features, including:
Direct downloads of audio files to your Apple device.
A list of all your available audiobooks in your Big Finish account.
Easily selectable chapters within audiobook, allowing you to listen in sequence or to choose your starting chapter.
The option to skip and scrub between chapters.
Saved playback positions, allowing you to continue the story later on.
The ability to use other apps while listening.
A full list of filter options, allowing you to sort your purchases by title, release date and purchase date.
WiFi is recommended when downloading large audio files. Downloading files over data connections such as 3G may incur a cost from your telecommunications provider.
The app has been designed and developed by Brandon Butler of Hackmod Productions in Michigan.
'I started working on my personal app project, Undulib', says Brandon, 'because I felt like there wasn't an app that catered specifically to my needs, the needs of an audio drama collector. I used the old Big Finish forum as a way to gauge interest from the community and to get fresh ideas. I guess somebody from Big Finish was watching what was going on. After Undulib was released on the app store, Kris Griffin, from Big Finish, sent me an email and asked if I would be willing to work on an update for their app. I couldn't believe it!'
As with the rest of the Big Finish team, Brandon was a keen follower of Doctor Who and other cult television programs before coming to work at Big Finish. His love of the series helped inform the apps design choices, with fantastic results:
'It was a match made in heaven.I've always loved radio dramas, science fiction, programming, and, recently, Doctor Who! I discovered Doctor Who on Netflix a few years back. Since I was a radio drama fan, I naturally found Big Finish. After The Night of the Doctor had Paul McGann mention characters from the Big Finish stories, I immediately started collecting the Eight Doctor Range. Now, I can't stop buying stuff from them! Big Finish offered me a dream job that combined most of my interests. Half a year later, here we are, releasing the updated iOS app. I can't believe Big Finish ended up being my first freelance job as a self-taught iOS developer. I look forward to continued collaborations.'
'Some time ago, we dipped our toe in the water by releasing an App that wasn't native to Android or iOS' says Big Finish Executive Producer Nicholas Briggs. 'Consequently, it did an adequate job but didn't really hit the high standards our customers expect of us. We decided to utilise Brandon's talent and build a native iOS App first, and follow up with a native Android App if all went well.
'I'm delighted with the results and our many five star reviews in the App Store indicate our customers are too. We're still developing and pushing what we can do with the App; I am immensely proud of this development.'
The Official Big Finish App is completely free to download and can be found in the iTunes app store and is distributed by Hughes Media Internet Ltd. Just search for Big Finish.