We love StoriesBig Finish produce great full-cast audio drama for CD and download, featuring many popular television fantasy series.
31 March 2019
Change my dear...! This has been possibly one of the most exciting weeks at Big Finish ever! A new website, some huge Doctor Who reunions, more details confirmed for Torchwood, and two great releases! Catch up on all the news in the Big Finish roundup.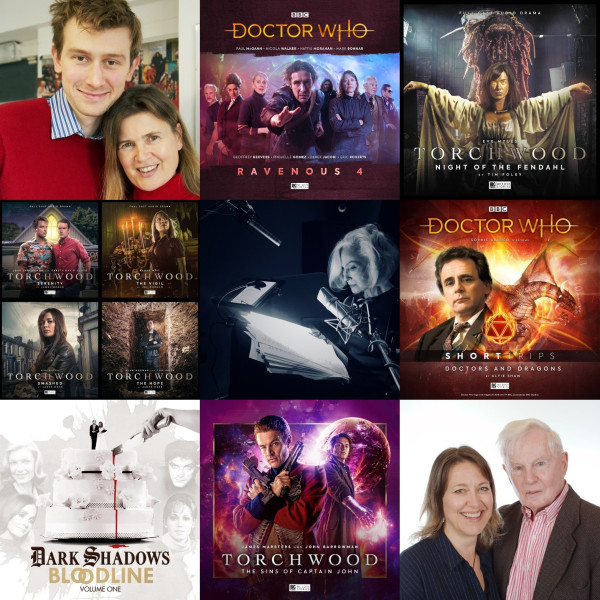 Instead of an April Fool next week, this 1st of April sees BIG changes coming to the Big Finish website! Read all about it here.
This means on Monday 1st April the website and the Big Finish app will be unavailable for several hours from 10am whilst we are regenerating… Make sure you have any files downloaded if you wish to listen to any titles (The Last Adventure seems appropriate!). Please bear with us during the development. Be seeing you…
This week, we started with the announcement with further details on The Sins of Captain John, and it's Time Agent versus Time Agent! James Marsters (Buffy, Angel, Smallville, Runaways) will be reunited with his co-star John Barrowman (Arrow, Torchwood, Doctor Who), in the audio drama box set, The Sins of Captain John coming out in January 2020. This might just be one of the most explosive reunions in science fiction history!
Captain John Hart. Adventurer, thief, lover, rogue Time Agent and all-round bad egg.
Everyone's favourite blackguard is back and he's in a lot of trouble. He's trapped in the ruins of an exploding space station. He's unleashed a force from beyond that will consume the universe. And he's running low on snacks.
Luckily, he has four hours to tell you how he got in this mess. There are zombies, mad scientists, hot tubs, and the talkative head of Oliver Cromwell just won't shut up. Plus Captain Jack Harkness is on his trail.
Captain John Hart returns in four new adventures coming out in January 2020:
1. The Restored
2. Escape from Nebazz
3. Peach Blossom Heights
4. Darker Purposes
On Tuesday, it was the beginning of Torchwood versus Doctor Who monsters! The first of four stories where Torchwood tackle Doctor Who monsters is out today, with Gwen Cooper versus the Fendahl in a dark chapter of Torchwood's history…
Torchwood – Night of the Fendahl is out now.
Marco makes films. You wouldn't like them. The lighting's shoddy, the sets are cheap and the sound's appalling. But there's an audience for them. Because they're films in which bad things happen to women.
Marco's latest venture is based on real events. Events which took place in Fetch Priory many years ago. It's an anthology piece, and Marco needs one final victim. But the last victim is not who anyone is expecting.
Death has returned to Fetch Priory. And Death is no-one's victim.
The next adventure in the Short Trips range was released Wednesday. Written by Alfie Shaw and performed by Sophie Aldred, the Seventh Doctor gets trapped in a most dangerous game… Available at just £2.99 on download, exclusively from Big Finish.
Doctor Who – Doctors and Dragons is out now.
Reya always knew she was different. Only she could see the numbers that govern the universe. When her sister is poisoned, Reya quests for the only substance that can save her. The blood of the last dragon. The only thing that stands in her way is a strange little man called the Doctor. He's refusing to let her kill the dragon, even though it will save her sister.
Defeat the Doctor, kill the dragon, save her sister. What could be simpler?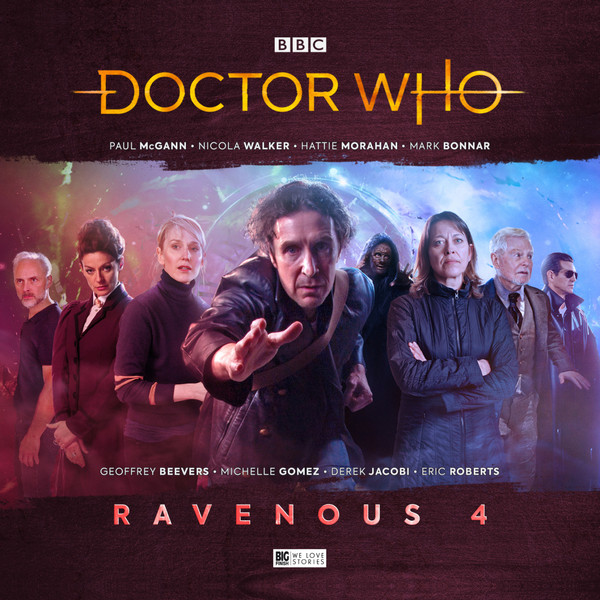 Michelle Gomez, Derek Jacobi, Geoffrey Beevers and Eric Roberts all return to the role of the Master/Missy for the finale of the Eighth Doctor saga, Ravenous, being released in October 2019 and announced Thursday. Ravenous 4 from Big Finish Productions sees an all-star lineup in a spectacular fight for the cosmos.
Paul McGann and Eric Roberts will be facing off against each other for the first time since the Doctor Who television movie was released in 1996 – 23 years ago. Listeners have long wondered if the two would ever co-star in a Doctor Who story again… and now they only have to wait until October!
The past, the present, and the future conspire against the Doctor as he fights to defeat the only creature ever to strike fear into the hearts of a Time Lord.
4.1 Whisper by Matt Fitton
4.2 Planet of Dust by Matt Fitton
4.3 and 4.4 Day of the Master by John Dorney
Details of the next four adventures in the Torchwood monthly range were revealed Friday.
Out for release from July onwards: Gwen drinks for the survival of Wales; Jack and Ianto are settling into suburban bliss; there's another assignment for Owen and Andy opposite a Dame; and we learn who joined Torchwood the same time as Tosh… Read all about in on Friday's news.
And on Saturday, in the next Dark Shadows release, Bloodline, Big Finish is thrilled to announce that Julie Newmar will be playing the role of the iconic character Doctor Julia Hoffman. Actor Julie Newmar became a household name following her performance as Catwoman in the Batman television series back in 1966.
And that's the news this week. Keep in the know by following us on Facebook, Twitter and Instagram.