For The Love Of StoriesBig Finish produce fantastic full-cast audio dramas for CD and download.
The Doctor discovers the origins of werewolves…
7 May 2019
The second story of The Monthly Adventures Mags trilogy has been released – and it's time for a nostalgic trip. Mags returns to her home planet but finds that sometimes a family reunion isn't all it's cracked up to be…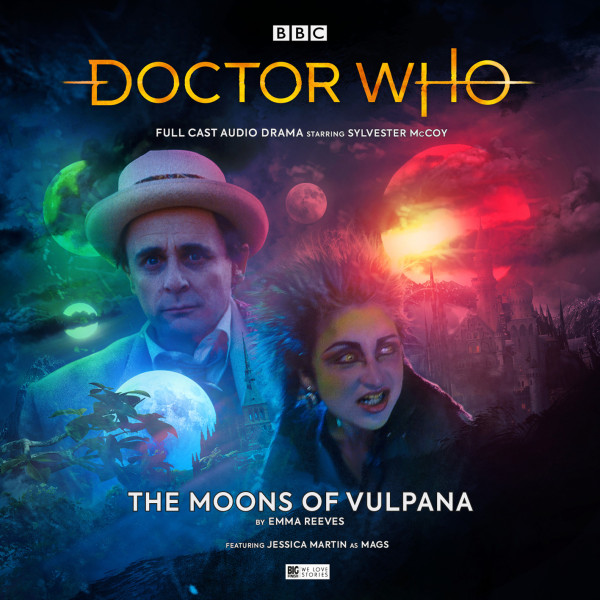 Doctor Who: The Moons of Vulpana is out now, with Sylvester McCoy as the Seventh Doctor and Jessica Martin as Mags.
The Doctor has returned Mags, formerly of the Psychic Circus, to her native world: Vulpana.
Not the savage Vulpana that Mags was taken from, but Vulpana in an earlier era. The Golden Millennium – when the Four Great Wolf Packs, each devoted to one of the planet's four moons, oversaw the height of Vulpanan civilisation. A time when the noblest families of the Vulpanan aristocracy found themselves in need of new blood…
A golden age that's about to come to a violent end!
Writer of this story, Emma Reeves, tells us more, "It's always an honour to work with the amazing characters in Big Finish stories. It was particularly exciting to write for Mags as she is a well-loved character from a classic story but we didn't know much about her history or her home planet of Vulpana - until now!
"I found that Mags just fits so perfectly as a companion - she is brave with a strong moral compass but has personal challenges to overcome and a journey of self-discovery to make. The Seventh Doctor, of course, has made plans to help her on that journey..."
Doctor Who: The Moons of Vulpana is available now at £14.99 on CD or £12.99 on download. All CD purchases unlock a download option via the Big Finish app and the Big Finish website.
Or why not save money by getting a subscription to Doctor Who: The Monthly Adventures. When you subscribe you'll get 30% off the price, free specially recorded Short Trips stories, PDFs of the scripts, and extended downloadable extras. You can subscribe for either 6 or 12 releases.
Coming out next in The Monthly Adventures there's a reunion at one of the most dangerous ports in the galaxy – Camden Lock, a haven of scum and villainy! An Alien Werewolf in London sees the Doctor and Mags called by Ace to modern-day Britain.
A space-time summons brings the TARDIS to the strangest place Mags has yet visited. A haven for the freakiest freaks and the weirdest weirdoes: Camden Lock, London, in the early 1990s.
But there's a reason why former TARDIS traveller Ace has brought the old gang back together. She's on a mission to rescue an alien being, held prisoner in a massive mansion…
A mission that can't possibly go wrong. Can it?