For The Love Of StoriesBig Finish produce fantastic full-cast audio dramas for CD and download.
The Human Frontier series two confirmed
26 June 2020
A brand-new series of the critically acclaimed full-cast audio drama of space exploration is now available to pre-order, due for release in August 2021.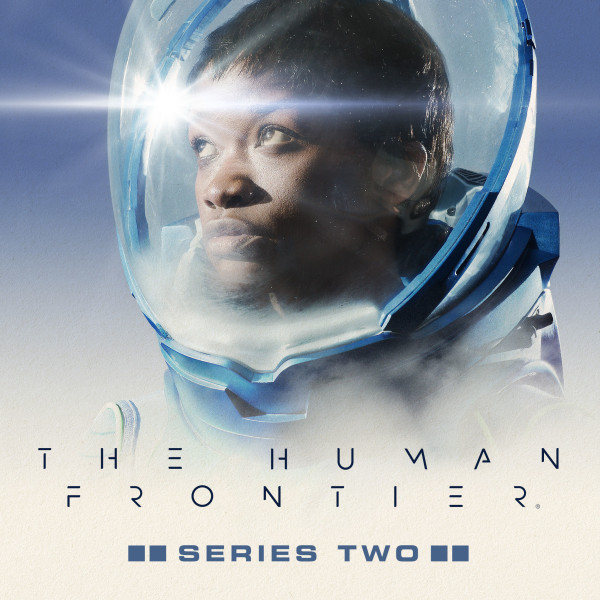 Fresh from the success of its first series, The Human Frontier, the epic science fiction story spanning hundreds of years of future history, written and directed by Big Finish's award-winning creative director, Nicholas Briggs, has been green-lit for a second run.
Series two promises to answer some of the questions raised in the cliffhanger finale of the first series. Actors Pepter Lunkuse (Exographer Anna Swift) and Genevieve Gaunt (Commander Daisy Bailey) are set to return, along with Lucy Briggs-Owen as the on-board artificial intelligence personality, 'Nilly'.
The Human Frontier series two is now available to pre-order as a digital download for just £16.99, exclusively from the Big Finish website.
'Sorry to wake you. Have you been here all night?'
When a man wakes up on a beach, he feels displaced in time. What is his connection to a devastating future, a planet-sized consciousness and a colony fighting for survival far out in space?
Anna Swift, Daisy Bailey, Brett Triton, Malden Grey and Nilly will all have their parts to play as the threads of human history weave their way towards a cataclysm.
The Human Frontier will once again comprise four parts for its second series, as follows:
Part 1 - Dendrick
Part 2 - Planet 5
Part 3 - Human War
Part 4 - Cataclysm
Writer and creator Nicholas Briggs said said: "I'm really humbled by how positive the reaction to The Human Frontier has been. Great reviews and the sales have picked up really quickly, which meant that we've been granted a second series. I'm already writing the scripts and can't wait to explore all the possibilities that are presenting themselves.
"Of course, the first series ended with a number of question marks. I've had the answers to those in my mind for some time, but I'm also leaving myself enough space to surprise myself too. The aim of the second series is to deliver the answers people are after, but not necessarily in the way you might expect. There has never really been anything inevitable about history, and for this version of future history the possibilities are endless. The journey towards that new Human Frontier starts now."
Praise for The Human Frontier series one:
One of the best Big Finish releases ever written by Nicholas Briggs.
- Doctor Who Watch
This ambitious audio drama is so overflowing with cool sci-fi ideas that you'd require a small fortune to put everything on-screen.
- SFX magazine
The cast are fantastic, the direction is urgent without sprinting and the writing deals with character, theme, concept, and occasional tentacles, with equal grace. It absolutely deserves a second season.
- Sci-Fi Bulletin
Pepter Lunkuse, Genevieve Gaunt, and Lucy Briggs-Owen are wonderful playing the three legs of an unconventional triangle.
- Sci-Fi Pulse
A glorious masterpiece of world building by Nicholas Briggs. But more than that, it entices you to look within and explore the question of what it really means to be human.
- Sirens of Audio
The Human Frontier series one is also available to own as a digital download exclusively from the Big Finish website, priced at just £16.99. Big Finish listeners can save money by ordering series one and two together as a bundle for just £32.