For The Love Of StoriesBig Finish produce fantastic full-cast audio dramas for CD and download.
The past is catching up with The Paternoster Gang!
5 May 2020
London calling! Prepare for a clash as Vastra, Jenny and Strax are back for more adventures in The Paternoster Gang: Heritage 3, released today from Big Finish Productions.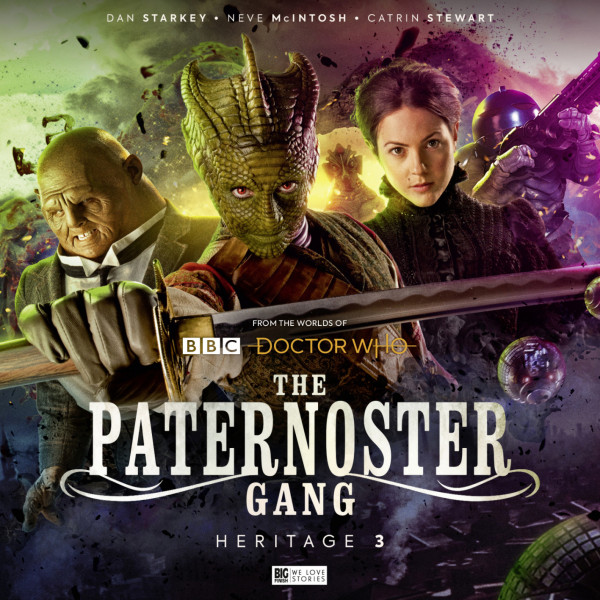 In this latest volume, the Silurian/human/Sontaran team encounter a travelling Victorian freak show, a cave-dwelling monster in Dorset, and a mummy-unwrapping party in the heart of Bloomsbury.
And The Paternoster Gang series is about to earn its title as we discover just why it's called Heritage. It means different things for each of the three characters, as aspects of their past come back to haunt them.
The Paternoster Gang: Heritage 3 is now available to own as a collector's edition CD box set or download, exclusively from the Big Finish website, from just £19.99.
Victorian London harbours many secrets: alien visitors, strange phenomena and unearthly powers.
But a trio of investigators stands ready to delve into such mysteries – the Great Detective, Madame Vastra, her resourceful spouse, Jenny Flint, and their loyal valet, Strax.
If an impossible puzzle needs solving, or a grave injustice needs righting, help can be found on Paternoster Row.
But even heroes can never escape their past…
The three exciting stories in this volume of The Paternoster Gang are:
Family Matters by Lisa McMullin
Whatever Remains by Robert Valentine
Truth and Bone by Roy Gill
Alongside the regular cast, Neve McIntosh (Madame Vastra), Catrin Stewart (Jenny Flint) and Dan Starkey (Strax), The Paternoster Gang: Heritage 3 also features guest performances from Annette Badland as Batraxus, a noble Silurian warrior-priestess, and Christopher Ryan as Stonn, the Sontaran leader of The Bloomsbury Bunch (a rival team of aliens in London).
Actor Catrin Stewart said: "It's been lovely working with the others again, though it's a bit strange as we get to actually see each other properly when recording audios – face to face. I associate Dan Starkey and Neve McIntosh with their character voices and how we all appear on the telly! But we've done quite a few recordings together and been at conventions since we last appeared on screen, so I'm getting used to seeing the real them."
Actor Dan Starkey added: "Lots of chickens are coming home to roost for The Paternoster Gang. All of them are dealing with something from their past. There's some quite fun stuff about danger from the beginnings of time that's starting to wake up beneath the surface of the world. We allude to a lot of these themes, in some of the stories, in lots of different, elliptical ways."
And actor Neve McIntosh agreed: "What's starting to happen is that there's a through-line, rather than it being purely episodic, running through a lot of the stories now. It's about all these weird and wonderful, very ancient relics which start to spark things off for Vastra. It's getting very interesting."
The Paternoster Gang: Heritage 3 is now available to own as a collector's edition box set or download, exclusively from the Big Finish website, from just £19.99.
Big Finish listeners can save money by ordering the complete bundle of this series, comprising all four box sets (including the forthcoming Heritage 4, due for release in October 2020).
Please note that Big Finish is currently operating a digital-first release schedule. The mailout of collector's edition CDs will be delayed, but all purchases of this release unlock a digital copy that can be immediately downloaded or played on the Big Finish app from the release date.