For The Love Of StoriesBig Finish produce fantastic full-cast audio dramas for CD and download.
The Sadistic Seamstress has arrived!
24 May 2022
The Great Detective, Sherlock Holmes, returns to apply his unique intellect to the unravelling of more seemingly unfathomable mysteries in a brand-new box set of unmissable full-cast audio dramas, released today by Big Finish Productions.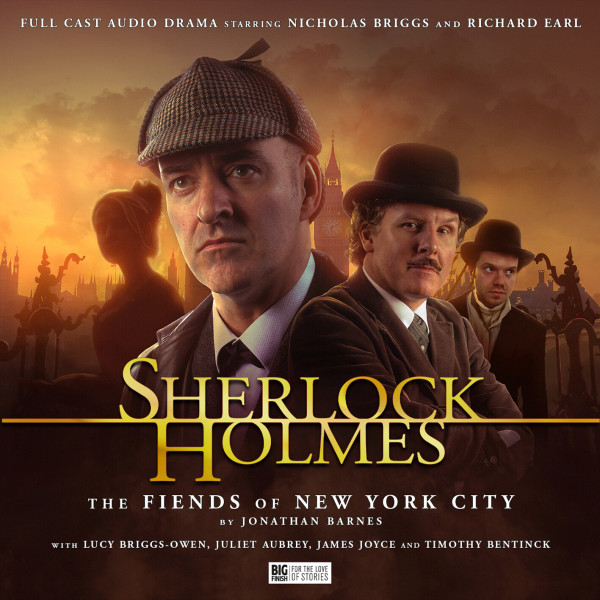 In a four-hour long tale, the London underworld's ruthless new leader, known only as the Seamstress (Juliet Aubrey – Primeval, Middlemarch, The Constant Gardener), finally reveals what she's really capable of. But she's not the only threat in store...
Holmes (Nicholas Briggs) and Watson (Richard Earl) are tasked with investigating a mysterious American killer responsible for unspeakably gruesome crimes. How will they stop him before he strikes again?
Sherlock Holmes: The Fiends of New York City is now available to own as a collector's edition 3-disc CD box set (+ download for just £19.99) or a digital download (for just £16.99), exclusively here.
Summer, 1901. For days, heat has been rising. London swelters; a long-expected storm promises to break.
In Baker Street, Sherlock Holmes, is visited by a peculiar American who arrives with a warning about a strange new kind of murderer. In the West End, Dr John Watson is watching his wife, the actress, Genevieve, prepare for her greatest role to date – only for her to be confronted by a terrible ghost from the past.
There are surprising connections between these events, a web of apparent coincidence which soon draws in others: Colonel Sebastian Moran, Mycroft Holmes, a dangerously ambitious young politician and – waiting patiently for the moment to finally make her move – the mysterious organising power at the head of the underworld, the Seamstress of Peckham Rye.
The sensational cast also features a number of Big Finish stalwarts, including Lucy Briggs-Owen (Holby City, A Very English Scandal), Timothy Bentinck (Good Omens, Doctor Who), John Banks (Emmerdale, 'Allo 'Allo), Jemma Churchill (Alma's Not Normal, Call the Midwife), Tim Faulkner (Much Ado About Nothing), James MacCallum (Tolkien, Broken) James Joyce (Downton Abbey) and Glen McCready (Years and Years).
Jonathan Barnes, writer of The Fiends of New York City, said: "It dives into this really interesting period — after Holmes has returned from the dead after his tussle with Moriarty. To some degree, he's looking for another great enemy to battle.
"We really built up the Seamstress's appearance in last year's The Seamstress of Peckham Rye, but it's finally time to hear her voice — she's in the very first scene. The idea behind her character is to have somebody who runs the Victorian underworld completely competently. I thought it might be more interesting and a more subtle threat to have someone who is just incredibly efficient."
Director Ken Bentley added: "The Seamstress is the criminal mastermind that's taken over the London underworld — she needs to be an incredibly charismatic and powerful figure. She's beautifully written and brought to life with relish by Juliet Aubrey.
"I like the journey of the Seamstress as so far, she's been an invisible character — somebody who everyone speaks about but we never meet. It's a classic theatrical device and has been brilliantly used. I found it a really charming aspect of what Jonathan's written."
Sherlock Holmes: The Fiends Of New York City is now available to own for just £19.99 (CD box set + download) or £16.99 (download only), exclusively from the Big Finish website.
Big Finish listeners can save money by purchasing this box set and its predecessor, The Seamstress of Peckham Rye (Best Audio Drama winner at the 2022 Audie Awards), together in a bundle for £38 (CD + download) or £33 (download only).
All the above prices include the special pre-order discount and are subject to change after general release.
Please note that Big Finish is currently operating a digital-first release schedule. The mail-out of collector's edition CDs may be delayed due to factors beyond our control, but all purchases of this release unlock a digital copy that can be immediately downloaded or played on the Big Finish app from the release date.