For The Love Of StoriesBig Finish produce fantastic full-cast audio dramas for CD and download.
The Terror of the Master Returns!
18 January 2023
A Masterful three-hour narrated audiobook set in the 1970s Third Doctor era is being re-released in March 2023 as a standalone download from Big Finish Productions.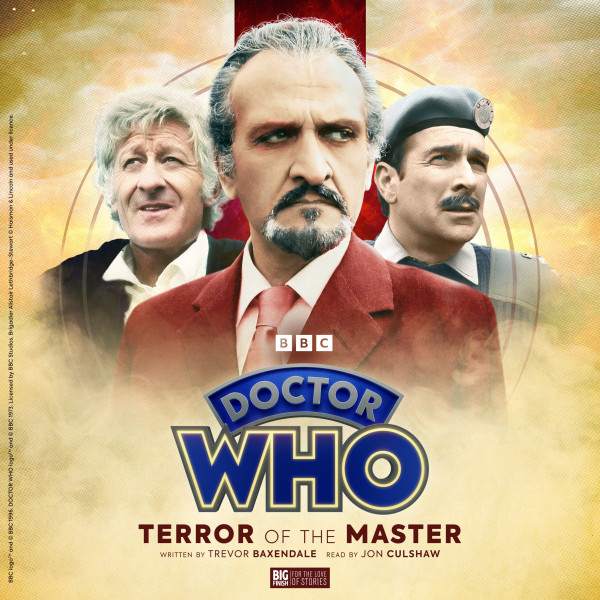 In January 2021, the special limited edition anthology release from The Worlds of Doctor Who: Masterful celebrated the 50th anniversary of the first TV appearance of the Master, a renegade Time Lord from the Doctor's home planet (originally played on screen by Roger Delgado).
The acclaimed bonus audiobook from this box set, Terror of the Master, found the Third Doctor reeling from Jo Grant's departure while facing a final standoff with his nemesis (portrayed on audio by Jon Culshaw).
Now, for the first time, The Worlds of Doctor Who: Terror of the Master is available to pre-order separately as a digital download for just £9.99, exclusively here.
Terror of the Master by Trevor Baxendale
Dr Derek Drake is a National Treasure – he's going to solve the energy crisis and stop all pollution. Governments and businesses around the world are signing up to his environmentally friendly campaign. So why is the Doctor convinced this great humanitarian and darling of the media is really the Master in disguise?
What could his greatest enemy hope to gain by improving the lives of everyone on the planet? The Doctor must convince his UNIT friends that they now face the ultimate terror – and that the Master may be in as much danger as they are...
Producer David Richardson said: "I was delighted to see the positive reviews for Terror of the Master. It's an authentic slice of Third Doctor thrills courtesy of Trevor Baxendale, and so beautifully performed by Jon Culshaw. It's a narrated reading but Jon always brings a full cast of voices with him and, along with Steve Foxon's brilliant soundscape, you are assured an enhanced audio treat."
Praise for Terror of the Master:
"Baxendale's writing, combined with Culshaw's superb reading of both dialogue and prose, and Foxon's evocative soundscape, all come together to create a quintessential Third Doctor era story. Terror of the Master offers a fine tribute to the actor who first told viewers we would obey him."

– Warped Factor

"I can't think of a single thing I didn't like about it. It's incredibly faithful to 1970s Doctor Who, complete with UNIT, issue-based storytelling and a gritty, modern feel. Culshaw once again proves himself a master (pardon the pun) performer. Because of this, Terror of the Master feels almost like a full-cast production."

– Who-Review

"If it had been broadcast in 1973, 10-year-old me would have adored it – and the rather older 2021 version does too. 9/10"

– Sci-Fi Bulletin
The above price includes the special pre-order discount and is subject to change after general release.