We love StoriesBig Finish produce great full-cast audio drama for CD and download, featuring many popular television fantasy series.
The Twelfth Doctor Chronicles is out now!
13 February 2020
The Twelfth Doctor is reunited with Osgood and Danny Pink, in four fabulous stories employing the amazing talents of actor and impressionist, Jacob Dudman, alongside Ingrid Oliver and Samuel Anderson.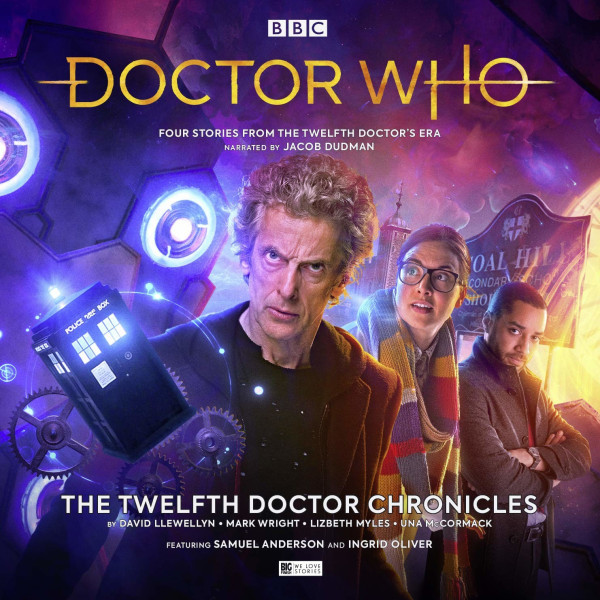 Over the course of these new audio adventures, the Doctor first finds himself in the muddy, bloody surroundings of the Crimean War, where he meets his match in real-life businesswoman and nurse, Mary Seacole. Then he takes a breakneck trip to an alien world in the middle of a vicious border war, before visiting a haunted castle in Rochester. Finally, the Doctor calls on the expertise of his old friend, Osgood, to help stop an invasion.
Doctor Who: The Twelfth Doctor Chronicles is available now as a collector's edition CD box set at just £22.99, or as a digital download at just £19.99, from www.bigfinish.com
The four exciting stories contained in this box set are as follows:
Charge of the Night Brigade by David Llewellyn
In the rat-infested camps of the Crimea, Mary Seacole offers a vital service to the beleaguered troops, serving up rice pudding and treating the wounded at her 'British Hotel'.
Mary's no-nonsense attitude is tested by the Doctor's arrival. Together, they must deal with a strange infection not of this Earth...
War Wounds by Mark Wright
When Danny Pink finds the TARDIS door open in a Coal Hill storeroom, he can't help wondering about Clara's double life and the truth about the Doctor.
But he gets much more than he bargained for. Stuck amid an alien war, can Danny and the Doctor stop arguing long enough to make it out alive?
Distant Voices by Lizbeth Myles
Cameron is haunted by strange voices. As she gets on with her job conducting tours around Rochester Castle, she hopes that they'll just go away.
Fortunately for Cameron, the Doctor has joined the tour. He hears the voices too, and he knows what they mean. Time itself is starting to fracture...
Field Trip by Una McCormack
Osgood gets an offer she can't resist when the Doctor drops in – her first flight in the TARDIS!
The Doctor is calling on Osgood's expertise to stop an invasion, but what begins as a fact-finding mission quickly becomes something for more dangerous. Osgood's intergalactic field trip is about to get very hands-on!
On casting Jacob Dudman to play the Twelfth Doctor, producer, Alfie Shaw, said: "I'm aware that I sound like a broken record whenever I'm asked about Jake, but he is simply phenomenal. We are so fortunate to be working with someone who is not only a superb impressionist but also a really talented actor and just an all-round wonderful man. This box set highlights Jake's versatility – not only is he playing both the Doctor and the narrator, he's also about three or four other characters per story! Listening to him in the studio, all I can do is marvel."
On inhabiting the role made famous on television by Peter Capaldi, actor Jacob Dudman added: "There are parts of the Twelfth Doctor's voice that are an enigma to me, so at first I was only brave enough to try and capture the essence of him. The years weigh on the voice: you can't capture the experience he's had in his life, not having been in a rock and roll band 40 years ago. He's such an interesting character to play.
"I spent some time in Glasgow last year, and I think that's helped me to find the voice. When I think of a generic Scottish accent, I tend to think of an Edinburgh one, which I'd say generally is more posh, more similar to an English accent."
Doctor Who: The Twelfth Doctor Chronicles narrated by Jacob Dudman, and featuring Samuel Anderson and Ingrid Oliver, is available now from the Big Finish website, as a collector's edition CD box set at just £22.99, or as a digital download at just £19.99.