We love StoriesBig Finish produce great full-cast audio drama for CD and download, featuring many popular television fantasy series.
18 October 2015
Catch up on a week of news and reveals from the worlds of Big Finish...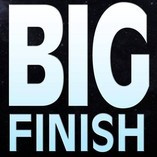 This week we've given you information, Information, INFORMATION with the reveal of the cast for The Prisoner: Volume 1.
Brilliant stage actor Mark Elstob (Emmerdale, Hamlet, Salome) will take on the role of Number Six, a secret agent imprisoned in the mysterious community known as the Village. Desperate to learn his secrets, the Village's authorities use ever more ingenious methods to bend Number Six to their will.
Leading the authorities is the ever changing face of Number Two – a series of administrative agents, portrayed in the new series by John Standing, Celia Imrie, Ramon Tikaram and Michael Cochrane. Other members of the cast include Sara Powell, Kristina Buikaite, Jez Fielder, Helen Goldwyn, Jim Barclay, Barnaby Edwards and Sarah Mowat. Check out the trailer below:
Elsewhere, another Prisoner has also escaped – The Eleven has escaped from Gallifrey, and the Universe will burn! Doctor Who: Doom Coalition 1, our brand new Eighth Doctor box-set is available now!
Starring Paul McGann, Nicola Walker and Hattie Morahan, this all-new saga pits the TARDIS team against the terrible power of the Eleven (Mark Bonnar) - a Time Lord criminal whose previous personalities still exist within his head.
This blockbuster release is already receiving rave reviews and begins an all-new era for the eighth incarnation of our favourite Time Lord. Listen to the trailer below!
Elsewhere, unbelievably, another prisoner has also escaped. Siobhan Redmond's dangerous new incarnation of the Rani is returning to her home planet in our latest Doctor Who Main Range release. Doctor Who: Planet of the Rani stars Colin Baker and Miranda Raison and is available to listen to today. Hear a preview below!
For our final new release, we have a brand new historical adventure with the Second Doctor. Doctor Who – The Early Adventures: The Forsaken stars Anneke Wills, Frazer Hines and Elliot Chapman, and this new two-disc adventure sees the travellers land on an island off Singapore during the Japanese invasion of 1942. There they meet Ben's father James Jackson (Oliver Jackson) – whose squad is being hunted by another visitor to the island.
The first episode of this story is available through every Big Finish email newsletter throughout October. Sign up here to be the first to hear these exclusive previews and to learn about news and offers.
We've capped off the week with a whole host of exclusive offers celebrating Tom Baker. The first two series of Doctor Who – The Fourth Doctor Adventures are included, as well as the brilliant box-sets Doctor Who - The Lost Stories: The Fourth Doctor Box Set and Doctor Who: Phillip Hinchcliffe Presents, with special bundles also available.
And to celebrate the latest television episode The Girl Who Died, we've also reduced our Viking-tastic Main Range adventure Doctor Who: Gods and Monsters to just £5 on both CD and Download. Starring Sylvester McCoy, Sophie Aldred, Phillip Oliver, Maggie O'Neil and Amy Pemberton, this action-packed audio sees the return of Fenric and his legion of Haemovores!
All these great offers must end at noon Monday 19th of October – so order now! Another title will be on offer next week after The Woman Who Lived.
That's all for this week, but join us soon for more great releases, including the triumphant return of London's Infernal Investigators in Jago & Litefoot: Series 10.