We love StoriesBig Finish produce great full-cast audio drama for CD and download, featuring many popular television fantasy series.
26 December 2015
Catch up on a week of festive fun with our news round up.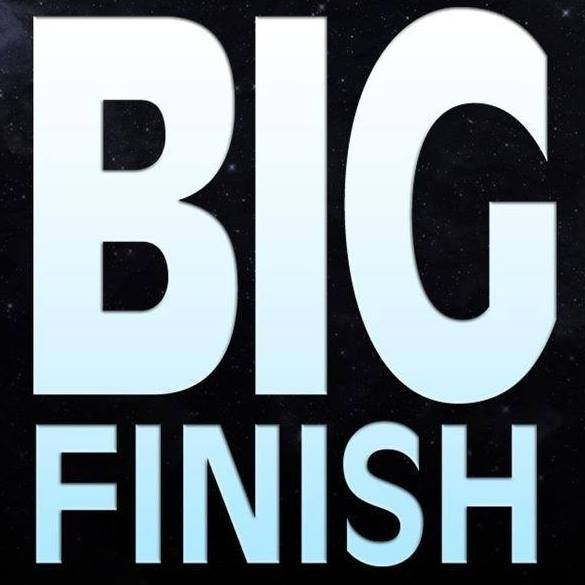 Merry Christmas from all of us at Big Finish! We hope that Santa brought you everything you wanted – but if you haven't had enough Yuletide treats yet, why not remind yourself of all this week's Big Finish reveals...
Doctor Who returned to TV this week for the fantastic Christmas special The Husbands of River Song. We loved watching Peter Capaldi finally cross paths with Alex Kingston; but if you're still looking for more adventures with the time-travelling Adventuress, then we have some great news – The Diary of River Song: Series 1 is available to download now!
Specially available ahead of its physical release on January 8th 2016, this fabulous set of four new stories puts River on a collision course with Egyptian curses, marvellous parties, dreaded SporeShips and an encounter with her future husband – the Eighth Doctor (Paul McGann). Listen to the trailer below:
You can still order this box-set at the special pre-order price of just £20 on CD or to download, with free UK postage until it's released. With the set not available on general release until April 2016, it's the perfect chance to be one of the first to listen to it.
You can also pick up the set in our New Series bundle, which contains fellow January release Doctor Who: The Churchill Years Volume 1 and July 2016's Doctor Who: Classic Doctors, New Monsters Volume 1. And remember, when you choose to buy this release on CD directly from Big Finish, you will also unlock instant access to a digital copy for download.
And for an extra special Christmas treat - the trailer for Doctor Who: Doom Coalition 2 has also been released! Starring Paul McGann, Alex Kingston, Nicola Walker, Hattie Morahan and Mark Bonnar, this new box-set sees River Song join the TARDIS crew for their next battle against the Eleven. Listen to the trailer below:
There are more holiday treats in store with the release of four Christmas podcasts. As well as the triumphant return of 'My Shelf', an extra long question and answer session in The Big Finish Christmas Podcast and a special Christmas Production Team Podcast live from the Moat Studios, we've also released a free extract from The Prisoner: Volume 1, available to download now from the Big Finish website, or listen to via the player below:
Released in full on January 6th 2016, The Prisoner: Volume 1 reimagines the highly influential 1967-68 ITV series as a bold new audio production. Written and directed by Big Finish Executive Producer Nicholas Briggs, the series stars Mark Elstob as Number Six, a former spy imprisoned in the mysterious 'Village', in a role made famous by original series star Patrick McGoohan.
You can pre-order The Prisoner: Volume 1 today for just £40 on CD or £35 to Download. And remember, when you've choosen to buy this release on CD directly from Big Finish, you will also unlock instant access to a digital copy for download upon its release on January 6th 2016.
The series is presented in a deluxe five-disc set, limited to 3,000 numbered copies. The set, which includes an in-depth Behind-the-Scenes audio documentary 'By Hook Or By Crook', is packaged in a lavish colour booklet containing professional photographs of the cast, articles by Nicholas Briggs and specially commissioned artwork.
Check out the video for a preview of what you can expect:
Ordering from the Big Finish website also gives you access to a variety of exclusive special features, including additional documentary material and music tracks for each episode. With the set not available on sale beyond our website until the end of March 2016, it's the perfect opportunity to ensure you're one of the first to hear it!
There are even more downloadable stocking-fillers to find online this week, with the release of Doctor Who: Black Dog, the latest in our line of Monthly Short Trips. Written by Dale Smith and performed by Louise Jameson, this new story pits the Fourth Doctor and Leela against a creature from their darkest dreams...
Further narrated adventures will be on their way in 2016, as the first details of Doctor Who – The Companion Chronicles: The Second Doctor Volume 1 are now online. The first story, The Mouthless Dead by John Pritchard is performed by Anneke Wills, Frazer Hines and Elliot Chapman, and sees the TARDIS crew arriving at a deserted train station, where sinister figures are watching from the shadows...
You can read more about the new story here. The set can be pre-ordered today for just £20 on CD or £15 to download.
That's all for this week – but we're keeping the Christmas spirit going into the New Year with our 12 Days of Big Finishmas special offers! There's still a chance to download Iris Wildthyme and the Claws of Santa for just £2.99, alongside today's new offer on Dark Shadows: The Phantom Bride. Join us for a new offer every day through to the 5th of January!
And don't forget – throughout the entire 12 Days of Big Finishmas, we're offering our money saving Doctor Who Super Subscription – 42 titles from just £325, including release extending all the way to 2020! Click here for more information.