We love StoriesBig Finish produce great full-cast audio drama for CD and download, featuring many popular television fantasy series.
21 February 2016
Catch up on all the latest news and releases from the worlds of Big Finish.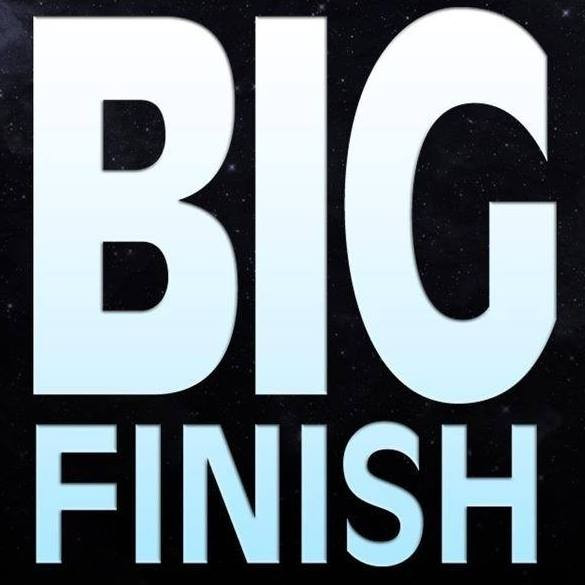 It's been a stellar week for Doctor Who listeners, with two brand new releases and a TARDIS full of exciting information on our upcoming stories!
The Fifth Doctor (Peter Davison) and his companions investigated a haunted spaceship in our latest Main Range release Doctor Who: Aquitaine by Simon Barnard and Paul Morris. This craft's only inhabitant is Hargreaves (Matthew Cottle) a friendly robot butler – but will he be able to offer his assistance when Nyssa (Sarah Sutton) and Tegan (Janet Fielding) are lost in time?
You can buy and download this story today from the Big Finish website; and remember, when you choose to buy this release on CD directly from Big Finish, you will also unlock instant access to a digital copy for download.
Next, the Fourth Doctor (Tom Baker) visited Budapest in Eddie Robson's Doctor Who: The Labyrinth of Buda Castle; where a vampire is on the loose! Doctor Who: Doom Coalition star Mark Bonnar stars as the terrifying Zoltan Frid, whose terrible plan for the city may be too much for the Doctor, Romana (Lalla Ward) and K9 (John Leeson) to handle!
You can subscribe to the entire Fourth Doctor Adventures Series 5 today to enjoy additional savings. Four previous series of Fourth Doctor Adventures are available to order now, with special bundles also available.
But that was just the start of our Doctor Who reveals, as we also debuted some brand new artwork from some of our most anticipated titles! In May, the Tenth Doctor (David Tennant) and Donna Noble (Catherine Tate) will return in three new audio adventures; and you can check out the covers for Doctor Who: Technophobia, Doctor Who: Time Reaver and Doctor Who: Death and the Queen online now!
All three stories are available to pre-order now either individually or as part of a special limited editionbox-set. The set also comes with an exclusive behind-the-scenes special feature, and a fifth disc containing a documentary looking at the worlds of Big Finish. Copies of this limited edition have nearly sold out, so order your copy now before it's too late. Listen to a clip from the series below:
We've also shown off the final two covers for our eagerly awaited Two Masters trilogy, released as part of the Doctor Who Main Range between April and June. Starring both Geoffrey Beevers and Alex MacQueen, this trilogy will build to a climatic team-up between two incarnations of the Time Lord villain in Doctor Who: The Two Masters.
You can pre-order each of the three stories today, or subscribe to the Main Range in either six or twelve months blocks. Subscribing saves you 30% against buying titles individually and lets you choose a free single-disc Big Finish release priced £10.99 or less (excludes titles from the Textbook Stuff range).
You'll also gain access to a variety of special features, including an exclusive Subscriber Short Trip story every free months, extended special features on selected releases and a PDF download of the script. Click here to begin your subscription today.
Some future titles for our Main Range release have also been revealed – taking us up to February 2017! In the coming months you can look forward to Doctor Who: A Life of Crime, Doctor Who: Fiesta of the Damned, Doctor Who: Maker of Demons, Doctor Who: The Memory Bank and Other Stories, Doctor Who: Order, Doctor Who: Absolute Power, Doctor Who: Quicksilver, Doctor Who: The Star Men and Doctor Who: The Contingency Club. Further details will be revealed soon!
More adventures in the Doctor Who Universe will be coming in April with the release of Torchwood: Zone 10 by David Llewellyn. This new story sees the return of Naoko Mori as Toshiko Sato, facing off against the KVI; the Russian equivalent of Torchwood. The trailer can be hear below:
Visit the product page to pre-order your copy, or subscribe to the whole of Series 2 today at the special introductory rate of £45 on CD or £40 to download (the price being held through to March 31st 2016).
Also coming soon is The Avengers – Steed and Mrs Peel: The Comic Strip Adaptations Volume 1. Full story details for this April release have been revealed offering four new adventures for John Steed (Julian Wadham) and Emma Peel (Olivia Poulet). Together, they'll face off against rampaging vikings, a fashion disaster, a murder mystery in a familiar castle and the cruel schemes of 'the Miser', in stories based on Comic Strips originally printed in Diana magazine between 1966 and 1967. You can pre-order the set today along with Volume 2 and a graphic novel reprinting the original scripts, as part of a special bundle.
That's all for this week; but join us tomorrow for the next eagerly awaited take from the Time War! Doctor Who - The War Doctor 2: Infernal Devices is released Monday February 22nd, featuring three more battles for the War Doctor (John Hurt) and Cardinal Ollistra (Jacqueline Pearce) against the Daleks (Nicholas Briggs). Listen to the trailer below, and pre-order your copy today for just £20 – with free UK delivery for all who pre-order!
And don't forget, our February Listeners title Doctor Who: The Feast of Axos is available to download now for just £2.99. There's also still a chance to win a day in the Big Finish studio during recording of The Prisoner: Volume 2 with our brilliant competition – see here for full details and get your entry in before the closing date of Tuesday February 23rd.