We love StoriesBig Finish produce great full-cast audio drama for CD and download, featuring many popular television fantasy series.
6 March 2016
Catch up on a week of news and releases from the worlds of Big Finish!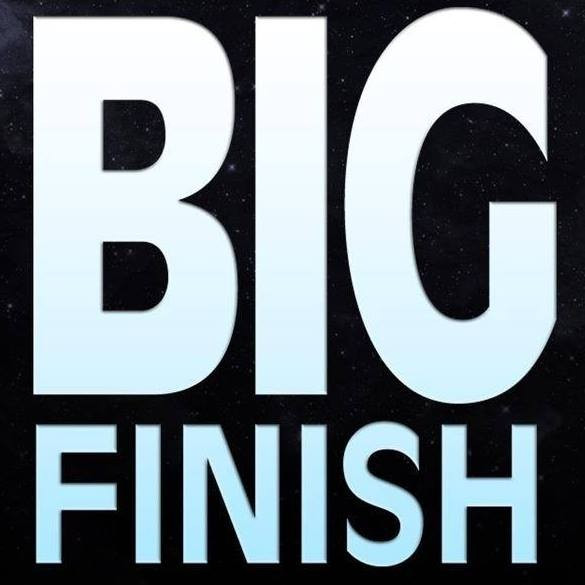 Blimey. Where do we start? A brand new Eighth Doctor box-set? A new trailer for the Tenth Doctor and Donna? Romana, Leela and Ace joining forces? River Song meeting two previous incarnations of her husband? Bernice Summerfield meeting an alternative version of her best friend; and the Master! It's been one of the biggest weeks ever for Doctor Who reveals; let's dive straight in!
Doctor Who: Doom Coalition 2 is available now! Continuing on from the events of the gripping first volume, the new set once again pits the Eighth Doctor (Paul McGann), Liv Chenka (Nicola Walker) and Helen Sinclair (Hattie Morahan) against the might of the Eleven (Mark Bonnar); an insane Time Lord whose previous incarnations still exist within his head.
But an encounter with a group of invading Voord places the TARDIS on the trail of a new threat against reality, concealed within the Time Vortex. And this may just be the start of the Doctor's worries; because River Song (Alex Kingston) needs the Doctor's help on a distant planet.
Watch the video trailer below:
Doctor Who: Doom Coalition 2 is available to buy and download today for just £20 on both CD and to download. You can order the entire Doom Coalition saga as part of a special money-saving bundle – with each box-set being sent to you as soon as it's been released. And remember, when you choose to buy this release on CD directly from Big Finish, you will also unlock instant access to a digital copy for download.
River Song may be enjoying her adventure with the Eighth Doctor, but in January 2017 she'll have a date with both the Sixth (Colin Baker) and Seventh (Sylvester McCoy). The Diary of River Song: Series 2 is available to pre-order now, and will see River face new dangers on the space exploration vessel Saturnius, visit a doomed planet Earth and encounter a terrifying new foe.
Also announced for 2017 are Doctor Who: The Churchill Years Volume 2 (once again starring Ian McNeice) and Doctor Who: Classic Doctors, New Monster Volume 2, featuring an assortment of New Series villains for the Doctor to face.
The Diary of River Song: Series 2, Doctor Who: The Churchill Years Volume 2 and Doctor Who: Classic Doctors, New Monsters Volume 2 can all be pre-ordered from the Big Finish website for just £20 each on both CD or download – with a special bundle of all three releases also available.
But there are plenty of New Series treats still to come in 2016 – including the eagerly awaited release of Doctor Who: The Tenth Doctor Adventures! A new trailer, featuring series stars David Tennant and Catherine Tate, is now online and can be listened to via the SoundCloud player below:
All three Tenth Doctor releases will be available together as part of Doctor Who: The Tenth Doctor Adventures Volume 1 Limited Edition. Limited to just 5,000 copies and available exclusively from the Big Finish website, this lavish book-sized box-set includes gorgeous artwork, photography and articles. Also included is a one-hour documentary on the making of the three stories, featuring interviews with the stars and production team, and an additional documentary presenting an introduction to the worlds of Doctor Who at Big Finish.
You can pre-order the set today at the special price of £30 on CD or £25 to download – offering a £5 discount against the standard price! Place your order today!
The three adventures are also available to order separately at only £10.99 each on CD or £8.99 each to download; with a special Bundle combining all three titles for an additional saving. With the titles not available on general release until the end of July 2016, it's a perfect chance to be one of the first to hear them!
You can hear another clip from this eagerly awaited series below; where Donna makes some careful wardrobe choices during the TARDIS's latest crash landing!
It's not just the New Series stars who are having all the fun though. May 2016 will see Romana (Lalla Ward), Leela (Louise Jameson) and Ace (Sophie Aldred) join forces to defend their home world in Gallifrey: Enemy Lines, the next instalment in our long running Doctor Who spinoff. Listen to the new trailer below:
Gallifrey: Enemy Lines can be pre-ordered today from the Big Finish website for just £14.99 on CD and £12.99 to download.
While her fellow companions are busy saving our Universe, Bernice Summerfield (Lisa Bowerman) will be heading to a new one entirely! Doctor Who - The New Adventures of Bernice Summerfield Volume 3: The Unbound Universe will see the return of David Warner as the Unbound Doctor, reprising the role he originally played in Doctor Who Unbound: Sympathy for the Devil and Doctor Who Unbound: Masters of War.
This alternative Doctor will recruit Benny for a desperate mission to his home universe – where they'll encounter the Kareem, the Blanks, Unicorns, the Sisters of Saint Beedlix and Sam Kisgart as the Master! You can pre-order this August 2016 box-set today for just £20 on both CD and to download.
While the Unbound Master is waging his scheme in other dimensions, Alex Macqueen's version of the Doctor's nemesis is up to his own evil plots at home. The trailer for Doctor Who: Vampire of the Mind has now been released, giving us a tantalising preview of what we can expect in Colin Baker's instalment of The Two Masters Trilogy. Check out the trailer below and preview all three stories on their product pages here.
You can enjoy all three Two Masters titles when you subscribe to the Doctor Who Main Range. Both six and twelve months blocks are available with both CD and Download options available. Subscribing saves you 30% against buying titles individually and lets you choose a free single-disc Big Finish release priced £10.99 or less (excludes titles from the Textbook Stuff range).
As a subscriber, you'll also gain access to a variety of special features, including an exclusive Subscriber Short Trip story every three months, extended special features on selected releases and a PDF download of the script. Click here to begin your subscription today.
All these goodies will be available soon – but there's still plenty to enjoy this weekend!
Blake's 7 listeners can enjoy special savings on the entire range until noon Monday March 7th. With titles available from just £2 and a host of special money-saving bundles available, there's never been a better time to catch up on the voyages of the Liberator. Check out our full range of offers here.
You can also save on our entire range of Sherlock Holmes audio dramas with our recently reduced bundle – containing all eleven releases featuring Nicholas Briggs's Holmes and Richard Earl's Watson. Click here for a complete guide to the series.
And finally, our new Listeners title Doctor Who – The Lost Stories: Hexagora is available to download throughout March for just £2.99, starring Peter Davison, Sarah Sutton, Janet Fielding and Jacqueline Pearce. Order your copy today!
That's all for this week, but join us soon for more news and reveals, including further details on the final confession of Dorian Gray!