For The Love Of StoriesBig Finish produce fantastic full-cast audio dramas for CD and download.
Three new Doctor Who Short Trips confirmed for 2020
27 September 2019
New adventures await the First Doctor, the Fifth Doctor and the Sixth Doctor in series 10 of the Doctor Who Short Trips range – a series of short stories narrated by an original series cast member.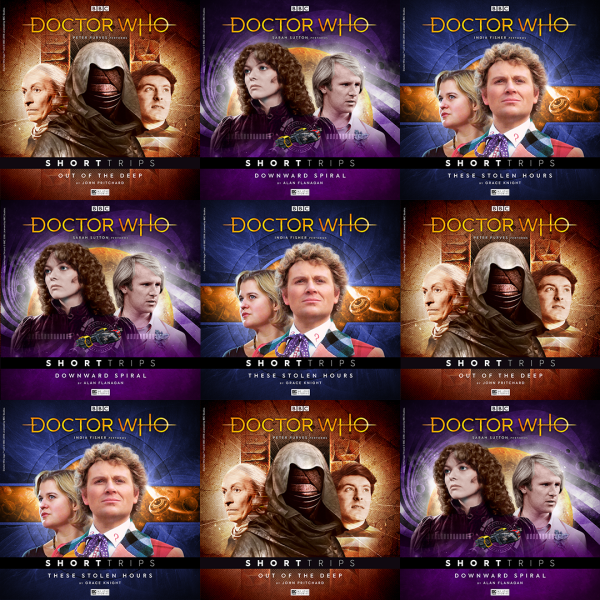 Peter Purves, Sarah Sutton and India Fisher take up narration duties in these forthcoming quick trips in the TARDIS, available from Big Finish on download (only) in 2020.
Out of the Deep (performed by Peter Purves, released June)
Written by John Pritchard
Drawn to Mesopotamia in the 1850s by an unknown signal, the Doctor and Steven cross paths with an archaeological expedition looking for one of the world's first cities, Eridu. Darkness sits at the heart of Eridu, an ancient evil that is stirring.
Some things are buried for a reason.
Downward Spiral (performed by Sarah Sutton, released July)
Written by by Alan Flanagan
Travelling through space on your own can be lonely. It's why Siobhan Matthews' ship has been installed with COMPANY, an AI that has stored personalities of Siobhan's nearest and dearest. Someone to talk to when the silence is overwhelming.
Siobhan has other guests today, which is impressive considering she didn't let them onboard. They're called the Doctor and Nyssa, but they've arrived at the worst possible time. Siobhan's ship is spiralling towards something in the dark, and it's hungry.
These Stolen Hours (performed by India Fisher, released August)
Written by Grace Knight
Charley knows all too well how precious memories can be. She remembers her travels with the Doctor, her Doctor. She remembers watching him die.
A time disturbance leads the Doctor and Charley to a remote research station. Unable to form memories, the crew believe someone is doing their work while they sleep. The truth, however, is far more insidious.
Big Finish Short Trips producer, Alfie Shaw, explained how these new adventures came about: "John Pritchard was one of the writers recommended to me by the previous producer, Ian Atkins, and I'm very glad he did! Out of the Deep is a great historical adventure, with John really nailing the tone of the period. Peter's a great reader and it's gripping story from start to finish.
"Peter Purves is a national icon, from Doctor Who 50 years ago to Blue Peter and is such a pleasure in the studio. His First Doctor is unmatched and it's wonderful to bring back this beloved television era back on audio.
"Downward Spiral sees the Doctor and Nyssa accidentally crashing into a spaceship run by an AI that has lots of different personalities. Sarah Sutton has an amazing vocal range and that's brought front and centre in this tale. Watching her slip between accents was just a delight to behold and makes for a fantastic listen.
"These Stolen Hours is a treat, particularly if you're a fan of Charlotte Pollard. Grace Knight has got to the core of that unique relationship that Charley has with the Sixth Doctor. It's a tale about perspective, heartbreak and memory. Don't miss it!"
Doctor Who - Short Trips series 10 is available to pre-order now at £2.99 per episode. Or why not save money by ordering a bundle of the full 12-episode series at £30?