For The Love Of StoriesBig Finish produce fantastic full-cast audio dramas for CD and download.
To Protect and to Serve the Solar System
29 September 2022
Story details and cover artwork are today revealed for the brand-new box set based on the cult-classic TV series Star Cops, due for release in November 2022 from Big Finish Productions.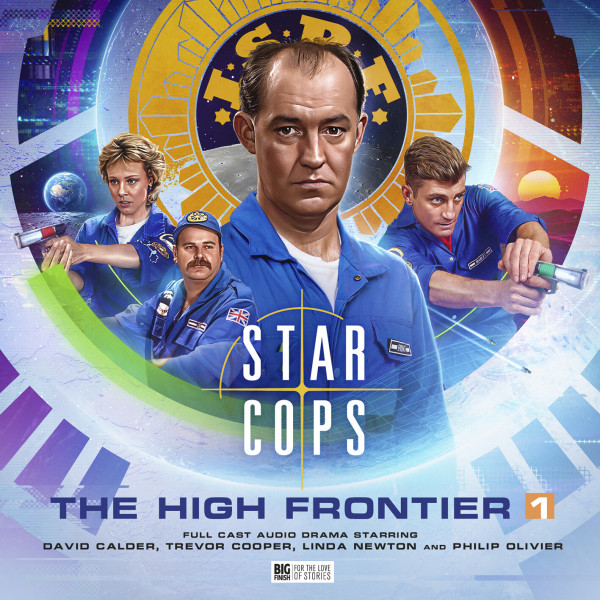 Star Cops, the brainchild of Doctor Who and Blake's 7 writer Chris Boucher, first aired in 1987 on BBC Two. Set in the near-future of 2027, when space travel is commonplace, it followed the crime-fighting activities of the International Space Police Force.
In The High Frontier: 1, original cast members David Calder (Commander Nathan Spring), Trevor Cooper (Inspector Colin Devis), and Linda Newton (Acting Chief Superintendent Pal Kenzy) reprise their roles, alongside Philip Olivier (Inspector Paul Bailey), to investigate murder, kidnappings, and drug trafficking.
Star Cops – The High Frontier: 1 is now available to pre-order as a collector's edition 3-disc CD box set (+ download for just £19.99) or a digital download only (for just £16.99) here.
It's the near future, and mankind has expanded its presence in space. Maintaining law and order beyond Earth is the responsibility of the International Space Police Force, known colloquially as the Star Cops. Their leader is Commander Nathan Spring.
The three gripping adventures in this box set are as follows:
Dead Air by Roland Moore
When Sonia Garrett dies during a routine moonwalk, the Star Cops suspect that her suit was sabotaged. As part of the investigation, Devis and Paul travel to an ancient space station to interview Xander O'Brien.
But the reclusive meteorologist has a surprise in store. He knows exactly who killed Sonia Garrett. Aliens!
Hostile Takeover by Rossa McPhillips
A crashed shuttle with no passengers or crew on board. The murder of a gangster. The kidnapping of a space station union leader. What connects all three cases?
As Nathan's team investigate they encounter Alice Okoro, a corporate investigator for Wolfe International. What is her agenda? Is she there to hinder or help the Star Cops?
Death in the Desert by Sarah Grochala
When the sister of Lee Jones, his deceased former lover, is kidnapped from a research lab in Chad, Nathan travels to Earth to investigate in person.
At the same time, Paul and Devis discover evidence that someone may have found a way to smuggle narcotics onto the Moon, bypassing drugs testing.
As both investigations progress, an enemy of the Star Cops sees an opportunity to close a trap.
Producer Emma Haigh said: "I'm so excited to be back on the Moon with the Star Cops. It's great to be working again with Nathan, Pal and Devis. These brand-new stories also take our Star Cops Earth-side where they'll meet contacts from the past, as well as learn of a new enemy, which could lead to deadly consequences. Buckle up for take-off!"
Praise for Star Cops – Mars: Part 2
"An absolute joy to listen to and experience. Even for those whohave not seen the original series, it is an engaging and fantastic series. We hold our breath for the next space faring adventure..." – Blogtor Who

"Tremendous fun." – SciFi Bulletin

"The thrilling conclusion of the Mars story secures the stellar status of Star Copson audio." – CultBox

"The production values are exemplary throughout." – Indie Mac User
Star Cops – The High Frontier: 1 is now available to pre-order for just £19.99 (collector's edition CD box set + download) £16.99 (download only) here. Star Cops – The High Frontier: 2, due for release in April 2023, is available to pre-order at the same price.
Big Finish listeners can save money by pre-ordering both box sets together in a bundle for just £38 (collector's edition CD box set + download) £33 (download only).
All the above prices include the special pre–order discount and are subject to change after general release.
Please note that Big Finish is currently operating a digital–first release schedule. The mailout of collector's edition CDs will be delayed, but all purchases of this release unlock a digital copy that can be immediately downloaded or played on the Big Finish app from the release date.