For The Love Of StoriesBig Finish produce fantastic full-cast audio dramas for CD and download.
Torchwood - Cadoc Point is out now!
26 January 2022
Sergeant Andy investigates! But this time he's gone rogue on a solo mission in the latest monthly Torchwood audio adventure, released today by Big Finish Productions.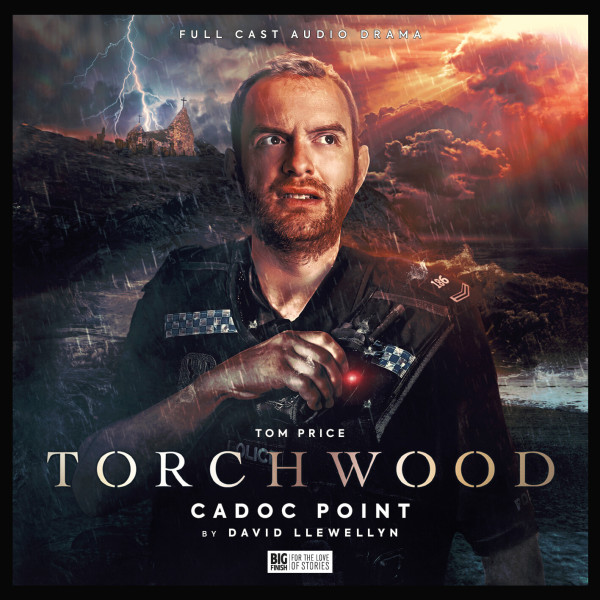 In Cadoc Point, Tom Price stars as Torchwood ally, Sergeant Andy Davidson – investigating a murder mystery involving his former art teacher, Merl Williams (Gareth Armstrong). Following the disappearance of three young men, Andy explores Merl's secretive past through clues in his artwork, but can he crack the case before another tragedy strikes?

Torchwood: Cadoc Point by David Llewellyn is now available to own as a collector's CD edition (+ download for just £10.99) or as a digital download only (for just £8.99) exclusively here.

Andy's old art teacher is in trouble. The disappearance of three of his former pupils has brought him some unwelcome attention. The authorities think that there's a secret in Merl's past.
Whatever Andy's suspicions, he discovers that something much older and stranger is hiding in Merl's past. Clues are scattered through his paintings, and all of them lead to a place called Cadoc Point.

Please note that Torchwood contains adult material and may not be suitable for younger listeners.
Producer James Goss said: "David Llewellyn has written a sad, creepy, art history murder mystery about a secret trapped in a painting that has haunted those who've encountered a place called Cadoc Point and seen an ancient temple that doesn't exist. It's just a beautiful and sad piece of work."

Star Tom Price said: "It's a really interesting and beautifully-built story as you would expect from David Llewellyn, who is an absolute genius! I like the Andy-Marple thing going on. He's having a lot of fun – he's off duty and is going rogue on his own mission which is unusual for him."

Co-star Gareth Armstrong added: "I like that Merl has a past and that it's gradually revealed to us bit by bit. He's quite a regretful character when we first meet him and he has ghosts to exorcise. We learn more about him and his relationships, triumphs, sadness, loves, and failed loves."

Writer David Llewellyn said: "There is a certain generation of gay men who had to live quietly for a big part of their lives and then suddenly were able to talk about it. There are probably many Merls out there who still haven't told their story but thankfully, I think there are plenty who will and it's important to listen to them while we still can."

Torchwood: Cadoc Point is now available to own as a collector's edition CD or on download from the Big Finish website.
Listeners of the monthly Big Finish Torchwood range can save money by pre-ordering a bundle of stories. A six-release bundle is £60 (for CD + download) or £50 (for download only) – or save even more money by ordering all twelve of the latest Torchwood releases together at £110 (for CD + download) or £94 (for download only).
Praise for Torchwood: The Grey Mare:
"Another strong character-centric piece."
We Made This Network

"Clever and subtle, thematically brawny but light on its feet. A highlight of a consistently strong and inventive range."
Sci-Fi Bulletin

"The cast performances are as superb as ever."
Who-Review
Big Finish is currently operating a digital-first release schedule. The mail-out of collector's edition CDs may be delayed due to factors beyond our control, but all purchases of this release unlock a digital copy that can be immediately downloaded or played on the Big Finish app from the release date.