We love StoriesBig Finish produce great full-cast audio drama for CD and download, featuring many popular television fantasy series.
Two classic Doctor Who adventures – out today
17 September 2019
Not one but two Doctor Who The Monthly Adventures have been released today with the Sixth Doctor and Peri, then the Fifth Doctor, Tegan and Nyssa – all of whom are going back in time!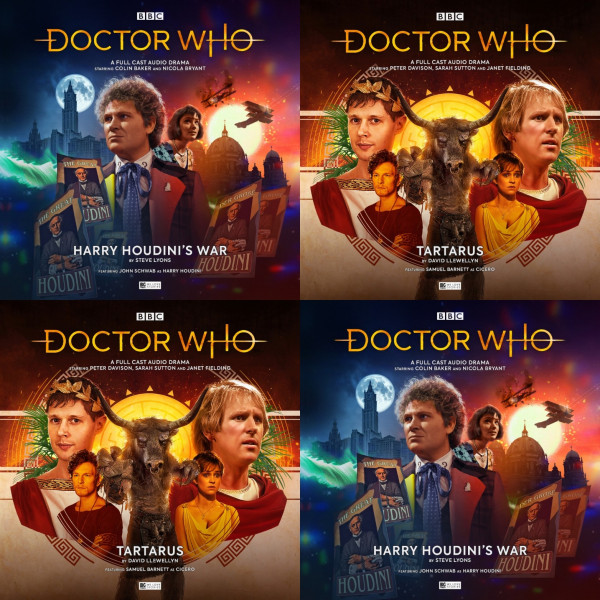 Out now, the Sixth Doctor and Peri have an old friend to meet in Harry Houdini's War…
The world is at war, and Harry Houdini wants to fight for his adoptive country. He might get the chance, when an old friend crashes his New York show.
The Doctor is on the trail of a Central Powers spy ring, which has somehow acquired unearthly technology. But he is also keeping a dangerous secret…
Finding himself on the run behind enemy lines, the world's greatest escape artist has to work out who he can trust – and fast.
Steve Lyons, author of Harry Houdini's War, was delighted to write for Colin Baker and Nicola Bryant in this sequel of sorts to the Destiny of the Doctor story, Smoke and Mirrors. Steve told Vortex magazine: "I've always loved writing for the Sixth Doctor in various media but this is my first full-length story with Colin playing the part, so a real treat for me. One day, I'd like to really explore the relationship between the Doctor and Peri during television season 22 – but this isn't that day.
"They don't actually spend a lot of time together in this story. Instead, they take it in turns to partner Harry Houdini, and those are the scenes I really had fun writing. Harry has a touch of the Sixth Doctor's pomposity – at least, he does the way I've characterised him – and they spark off each other really well. And Peri can undermine Harry with a sarcastic quip just as effectively as she does the Doctor!"
Also released today is the first in a new series of Fifth Doctor adventures starting with the Doctor meeting his hero, Cicero. Tartarus is out now.
63BC. Following the overthrow of Catiline, Cicero and his wife retire to the coastal town of Cumae, safe from the threats of Rome.
But when a stranger and his companions arrive at Cicero's villa, new dangers lie in wait and Cicero finds himself plunged into a realm of gods and monsters.
His only hope of returning home lies with a man known as the Doctor. But can Cicero trust him?
Producer and director, Scott Handcock, tells Vortex magazine about uniting these two quite different characters who are both very close to his heart: "Obviously, I love Cicero. The Original series we made is one of my favourite things: a historical drama exploring the life of a significant (though strangely not that well-known) public figure, delving into the lifestyle and politics that comes with it.
"As a time-travel series, I wanted to tackle more historicals so the Doctor encountering Cicero was high on my list as soon as I took over as producer of the Fifth Doctor stories. It helps that Peter Davison happens to be a big fan of Samuel Barnett and Dirk Gently, as the Doctor's whole purpose for visiting is because he's a massive fan of Cicero's work!"
Doctor Who: Harry Houdini's War and Doctor Who: Tartarus are each available now at £14.99 on CD or £12.99 on download. All CD purchases unlock a download option via the Big Finish app and the Big Finish website.
Or why not save money by getting a subscription to Doctor Who: The Monthly Adventures. When you subscribe you'll get 30% off the price, free specially recorded Short Trips stories, PDFs of the scripts, and extended downloadable extras. You can subscribe for either 6 or 12 releases.
Coming out next in The Monthly Adventures we've two new stories with the Fifth Doctor, Tegan, Nyssa and a new companion…
Interstitial by Carl Rowens
When the TARDIS is drawn off-course by temporal disruption, the Doctor and his companions discover a research facility conducting dangerous experiments. But how do you fight the future when time itself is being used as a weapon?
Feast of Fear by Martyn Waites
At the height of the Irish famine, a carnival travels the country bringing cheer to all they encounter. But it also brings something else along with them… and it already has the Doctor.