We love StoriesBig Finish produce great full-cast audio drama for CD and download, featuring many popular television fantasy series.
Two, three, four Doctors are better than one!
25 September 2017
With the exciting Doctor crossover at Christmas and Zagreus on offer today at 99p, we look at some popular Doctor Who stories with more Doctor for your dollar.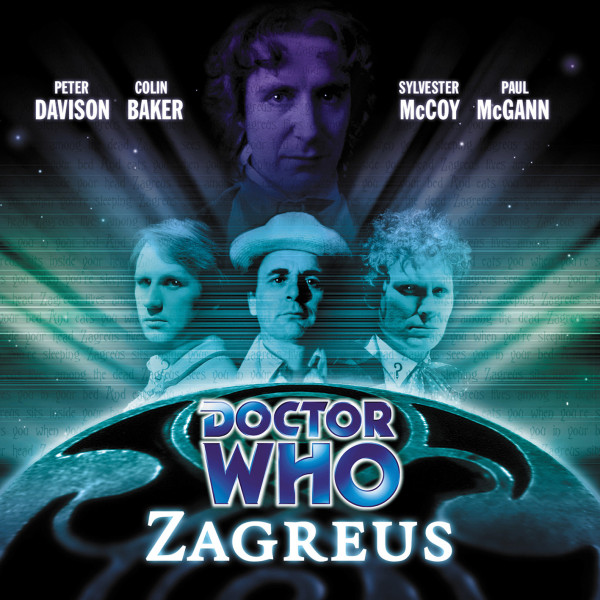 There's a certain excitement in the air when a Doctor Who crossover is coming up. With the Twelfth Doctor (played by Peter Capaldi) meeting the First Doctor (played by David Bradley) at Christmas, it's great to see Doctor Who fans treated to some nostalgia in the winter months. And Big Finish are very excited to have David Bradley reprising the First Doctor for the First Doctor Adventures in January.
But it's certainly not the first time two Doctors have crossed timelines! Ever since The Three Doctors, starring Jon Pertwee, Patrick Troughton and William Hartnell in 1972, the Doctors have been working together to take on the greatest threats and cosmic events in the galaxy (the first Doctor Who story at Big Finish had three doctors alone!). Today we look at some of the occasions the Doctors combined forces here at Big Finish.
One of our favourites is Zagreus – with four Doctors together for the first time. Paul McGann, Sylvester McCoy, Colin Baker and Peter Davison work together in this Doctor Who main range tale, which was released for the 40th anniversary of Doctor Who, back in November 2003.
Zagreus sits inside your head.
Zagreus lives among the dead…
Zagreus sees you in your bed
And eats you when you're sleeping.
Following on from the adventures of the Main Range story Neverland, after an anti-time explosion in the TARDIS, a possessed Eighth Doctor is on the loose. This release has an epic cast list as well, with many familiar names for Doctor Who fans. Along with some other K9 special offers, you can get Zagreus for 99p today. Go to page www.bigfinish.com/offers/v/k940 and use code marius in order to access it. This offer ends today at 23:59 UK time, so don't miss out!
And who can forget the very first Big Finish Doctor Who episode? The Sirens of Time had Sylvester McCoy, Colin Baker and Peter Davison back in July 1999 for their Big Finish debut.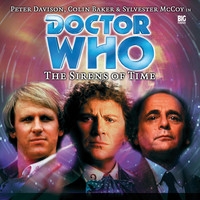 Gallifrey is in a state of crisis, facing destruction at the hands of an overwhelming enemy. And the Doctor is involved in three different incarnations - each caught up in a deadly adventure, scattered across time and space. The web of time is threatened - and someone wants the Doctor dead.
The three incarnations of the Doctor must join together to set time back on the right track - but in doing so, will they unleash a still greater threat?
You can get this very first adventure for £2.99 on download.
And it's not just Big Finish and the television show that explored multi-Doctor storylines. The Virgin New Adventures (which were written and released after the cancellation of Doctor Who in 1989), had the Fifth and the Seventh Doctors together in Cold Fusion. Set straight after the Fifth Doctor's regeneration, Cold Fusion matches the Doctor, Tegan, Nyssa and Adric with the Seventh Doctor and New Adventure Companions Roz and Chris.
A newly regenerated Fifth Doctor arrives on an occupied ice planet – where the Seventh Doctor is investigating dangerous energy experiments conducted by the Earth Empire. But events spin out of control when a refugee from the distant past arrives - Patience, the Doctor's Wife!
You can Big Finish's adaptation of the novel with a full cast recording for £16.99 or £14.99 on CD or download here.
It's not just the Doctors that have to contend with multiple versions: it's even more complex for the companions. Peri meets multiple Doctors, and multiple Peri's, in Peri and the Piscon Paradox, one of Big Finish listeners' favourite Companion Chronicles. This popular adventure is £12.99 on CD or £9.99 on download.
And who can forget Big Finish's celebration for fifty years of Doctor Who, The Light at the End?
November 23rd 1963 proves to be a significant day in the lives of all eight Doctors…
It's the day that Bob Dovie's life is ripped apart…
It's also a day that sets in motion a catastrophic chain of events which forces the first eight incarnations of the Doctor to fight for their very existence. As a mysterious, insidious chaos unfolds within the TARDIS, the barriers of time break apart…
From suburban England through war-torn alien landscapes and into a deadly, artificial dimension, all these Doctors and their companions must struggle against the power of an unfathomable, alien technology.
From the very beginning, it is clear that the Master is somehow involved. By the end, for the Doctors, there may only be darkness.
This 50th anniversary story is available as a limited edition for £45 on CD or £25 on download or a standard edition for £14.99 or £12.99.
What's your favourite Doctor Who multi-Doctor crossover adventure? Let us know on Facebook Twitter and Instagram.