For The Love Of StoriesBig Finish produce fantastic full-cast audio dramas for CD and download.
30 May 2022
Story details are today revealed for the first of two audio drama box sets reimagining the beloved Gerry Anderson ITV series UFO, starting in August 2022, from Big Finish Productions.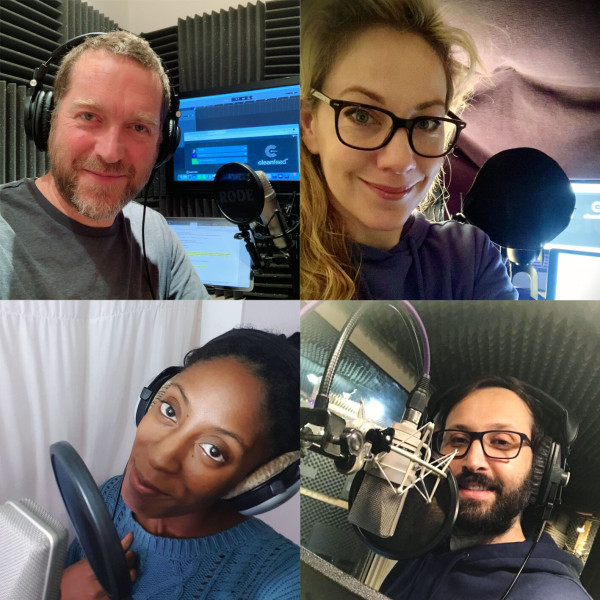 UFO originally aired on TV in 1970 — but set in the then 'futuristic' 1980 — and followed the top-secret missions of the SHADO (Supreme Headquarters Alien Defence Organisation) team.
Barnaby Kay (The Five, Wallander, Doctor Who) stars as Commander Ed Straker in the three full-cast audio adventures, written by Andy Lane (known for the Young Sherlock Holmes novels). As Straker gets caught up in the affairs of the Earth-defence agency and takes on the high-stakes role of its dedicated leader, he finds his life both under threat and turned upside down.
UFO: Destruct Positive! and UFO: Volume 2 (Title TBC) are each available to pre-order as a collector's edition 3-disc CD box set (+ download for just £19.99 each) or digital download (for just £16.99 each), exclusively here.
The human race is under threat.
The public has no idea. But alien ships are already attacking. And aliens are already here.
Ed Straker is a test pilot in the US Air Force. Then, one day, his aircraft is attacked by a UFO.
His life will never be the same again...
The three explosive adventures are as follows:
Destruct Positive!
Ed Straker is a test pilot in the US Air Force. Then, one day, his aircraft is attacked by a UFO. His life will never be the same again…
Things We Lost in the Darkness
SHADO training is underway. But an exercise turns into the real thing as the aliens bring terror to the quiet of the sleepy, English countryside.
Full Fathom Five
Skydiver is SHADO's new, formidable frontline defence against alien attack. Stepping aboard, Ed Straker is on a mission to find out if the right people are in charge. Because when things go badly wrong, they are the ones whose lives are on the line.
Barnaby Kay said: "Andy Lane's scripts are great and really capture the feel of the original series. UFO is quite of its time but it's a really exciting and thought-provoking series. It doesn't shy away from emotional difficulties.
"Ed Straker is a natural leader — he thrives when there are decisions to be made. He's very serious but mistrustful of everybody. You get a sense of his ruthlessness in the job. Ed Bishop, who played Ed Straker in the original TV series, gave it so much repressed rage and emotion.
"In these three stories, Straker is feeling the pressure and the imminent danger, but he's got no defence. Nothing's working. He's immensely frustrated and he'll only be happy when he's in full control. But even then, he'll still be tense."
Director Nicholas Briggs added: "Everyone in the cast has been marvellous but Ed Straker has to be my favourite character in the box set because he's at the centre of the story. Straker's experience is our way into the adventure.
"I wanted to cast Barnaby Kay in the role because I've worked with him before and he has an intensity. It's as if there's always something bubbling under the surface, which is exactly what I thought of Ed Bishop's performance — you could see some kind of angst and Barnaby has that. There's a danger in him."
The outstanding cast also includes Jeany Spark (Man Down, Collateral) as Lieutenant-Colonel Virginia Lake, Samuel Clemens (Torchwood: War Chest, Stingray: Monster from the Deep) as Colonel Alec Freeman, Lynsey Murrell (EastEnders) as Lieutenant Gay Ellis, and Harry Myers (Midsomer Murders) as General James Henderson.
UFO: Destruct Positive! is now available to pre-order for just £19.99 (collector's edition CD box set + download) or £16.99 (download only), exclusively from the Big Finish website.
Big Finish listeners can save money by pre-ordering both volumes of UFO together in a bundle for just £38 (collector's edition CD box set + download) or £33 (download only).
All the above prices include the special pre-order discount and are subject to change after general release.
Big Finish is currently operating a digital-first release schedule. The mail-out of collector's edition CDs may be delayed due to factors beyond our control, but all purchases of this release unlock a digital copy that can be immediately downloaded or played on the Big Finish app from the release date.