For The Love Of StoriesBig Finish produce fantastic full-cast audio dramas for CD and download.
UNIT: Silenced - Coming November 2016 from the Worlds of Doctor Who
21 May 2016
Kate Stewart faces a forgotten invasion in Big Finish' upcoming New Series box-set. Silence Will Rise!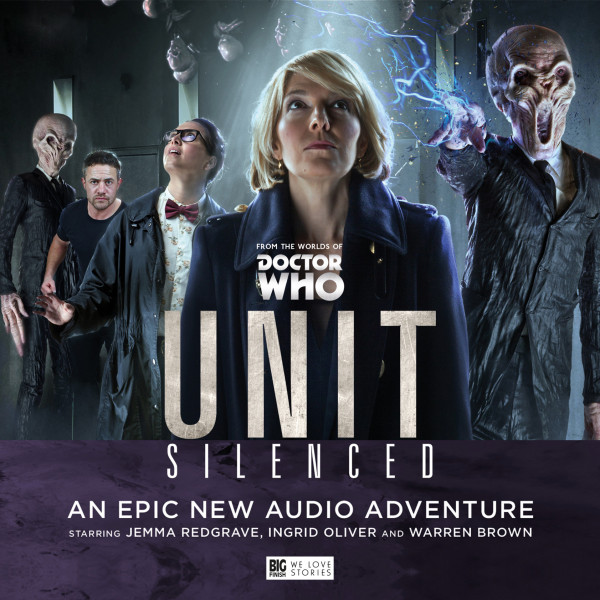 This Autumn, the Earth will once again come under threat from the arch-enemies of the Eleventh Doctor, the Silence. These alien parasites have been trapped on Earth since the events of The Impossible Astronaut/Day of the Moon, but Big Finish's new box-set will see them breaking through the Time Lord's trap, leaving the world defenceless!
Commanding the defence against the extraterrestrial invaders is Kate Stewart (Jemma Redgrave), the daughter of legendary UNIT leader Brigadier Lethbridge-Stewart. Kate will once again be supported by her loyal technical advisor Petronella Osgood (Ingrid Oliver) and heroic UNIT Captain Josh Carter (James Joyce).
Reinforcing the UK team is international troubleshooter Lieutenant Sam Bishop (Warren Brown). Returning to duty after the apocalyptic events of UNIT: Extinction is Colonel Shindi (Ramon Tikaram), whose battle against the Autons has taken a heavy toll.
Together, the UNIT team will have to take on the resurgent threat of the Silence, now voiced by master-of-monsters and Big Finish Executive Producer Nicholas Briggs.
Keeping a close eye on both sides of the conflict is journalist Jacqui McGee (Tracy Wiles), desperate to uncover UNIT's activities to the public after her encounter with the Nestene Consciousness. But Jacqui's investigation uncovers a far greater conspiracy...
You can pre-order UNIT: Silenced today for just £20 from the Big Finish website ahead of its release in November 2016. As with the majority of Big Finish releases, a complimentary digital copy is included with all CD orders – so you don't need to wait to enjoy the story!
Opening box-set UNIT: Extinction is available to download today. The team take on new enemies the Tengobushi in June's UNIT: Shutdown, featuring Alice Krige as the scheming Felicity Lyme. A fourth box-set will be released in May 2017. A bundle of all four releases is also available, which includes free UK postage.