4. UNIT - Assembled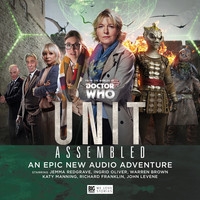 Released May


Prices
CD
US $26.05
Download
US $20.00

Web Special Price!


Synopsis
This title was released in May 2017. It will be exclusively available to buy from the BF website until July 31st 2017, and on general sale after this date.
'About 4 years ago even the idea of a story like this would be something you could only dream about, The definitive classic meets new, loaded with many references and excellent story telling ' The Host Productions
'It's a dynamic storyline in its own right that uses that background as a starting point to dig into what makes UNIT such an important part of Doctor Who's history. ' We Are Cult
'UNIT Assembled offers Jemma Redgrave and Ingrid Oliver have the chance to round-out their characters. Osgood, especially, is exposed to a whole new set of challenges. Especially pleasing, though, is hearing Katy Manning turn in one of the best of many good performances for Big Finish. In fact, it may be one of her best Doctor Who performances ever. ' Cultbox
'This is a spectacular set. It does great credit and respect to the legacy characters they use. They aren't just given token parts to play with weak excuses to 'shoe-horn' them in. Thought has gone into who they were and who they might now be and a good dose of the actors seems to creep in too. Finally I just have to praise the production team. Four magical stories from Matt Fitton and Guy Adams. Spot on direction and pacing from Ken Bentley who has 'assembled' a perfect cast. 10/10 ' Indie Mac User
Kate Stewart and her UNIT team investigate and confront alien attacks on the planet Earth. Something is stirring, an old foe to those in UNIT with a long memory. And fortunately, to face an old foe... There are old friends.

4.1 Call to Arms by Matt Fitton
Mike Yates braves a stormy night in the Lakes to help celebrate a milestone for John Benton. An evening of fond reminiscences of old glories and friends awaits. But a long-buried past is about to catch up with them.
Meanwhile, on the rain-lashed moors, what begins as a routine mission for modern-day UNIT quickly becomes a fight for survival.
4.2 Tidal Wave by Guy Adams
When an experimental tidal power generator needs its eco-friendly credentials checked, Kate Stewart calls in an expert.
Soon, Jo Jones is bound for 'Project Charybdis' in the South Atlantic, along with an awestruck Osgood.
But out at sea, a treacherous plan is set in motion to awake an ancient race. Beneath the seabed an army is sleeping - an army of Sea Devils!
4.3 Retrieval by Guy Adams
As the Earth's primeval rulers reclaim their birthright, UNIT must stand against them. Kate Stewart and Osgood venture into a Mediterranean stronghold to retrieve a means to fight back.
But a Silurian warrior is on their trail. Once she has the humans' scent, Commander Tryska will never give up the hunt.
4.4 United by Matt Fitton
The Silurians hold Great Britain under siege. Grand Marshal Jastrok rules the seas and the skies with reptile forces. On the ground, Commander Kalana crushes all ape resistance.
With Kate Stewart trapped, defence of the realm falls to UNIT's old guard. Jo Jones, Mike Yates and John Benton are ready to do their duty and stand united.
Written By: Matt Fitton, Guy Adams
Directed By: Ken Bentley
Cast
Jemma Redgrave (Kate Stewart), Ingrid Oliver (Osgood), James Joyce (Josh Carter), Warren Brown (Lt. Sam Bishop), Richard Franklin (Mike Yates), John Levene (John Benton), Katy Manning (Jo Jones), Richard Hope (Jastrok), Neve McIntosh (Kalana), Nicholas Briggs (Sea Devils), Nicholas Asbury (Burmaster), Annette Holland (Anne), Alex Tregear (Laura Sale).
Other parts played by the cast.
Producer David Richardson
Script Editor Ken Bentley
Executive Producers Jason Haigh-Ellery and Nicholas Briggs