2. Archangel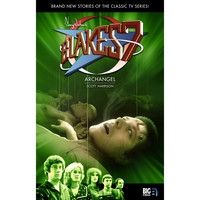 Released November 2012
Prices
Book
US $6.71
eBook - EPUB
US $5.00
eBook - MOBI
US $5.00

Web Special Price!


Behind the Scenes
A HEAVENLY JOB

Novelist Scott Harrison takes us along the bumpy road to the final version of new Blake's 7 book Archangel

When I was commissioned to write one of the first novels in the new Blake's 7 range back in the summer of 2011, it was a very different story that I pitched to editor Xanna Eve Chown and producer David Richardson.
The story was called Wolf's Head and concerned itself with a group of young copycat rebels who, styling themselves on the legends of Roj Blake and the Liberator crew, organise a violent and bloody insurrection on an ore-cracking station on the Outer Planets.
The only stipulation I was given when pitching for the range was that my book must be set during Series D – other than that I had a totally free hand. And so I went away and, after a few days of endlessly walking up and down sunny country lanes with iPod and notebook, I sat down at my laptop and wrote a two-page proposal for a story set between the TV episodes Orbit and Warlord, then I sent it off.
Two days later I got a lovely email back from Xanna asking that if it's not too much trouble, would I very much mind rewriting the proposal as a Series B story? Of course I didn't mind. I spent the next few days carefully redrafting and retweaking the proposal.
The trouble was that certain elements in the synopsis clashed with one of the Liberator Chronicles they were developing, so I was asked to go away and write a brand new proposal. This time, I decided, I wanted to write a story that dealt with the flip side of the Liberator crew's heroic escapades, a story about death and how it touched and affected those left behind.
Obviously, with this taking place during Series B, it needed to be set in the direct aftermath of Olag Gan's death and while the crew were still way out of their comfort zone, but not so near that all Blake was thinking about was clearing off to an alien planet to be alone. The perfect place was between Trial and Killer, a time when Blake is trying to put Gan's death behind him and move on, but the rest of the crew are still resentful of their leader.
They say that a writer never writes a novel alone and this is doubly true for a tie-in novel. I owe a great deal of thanks to so many wonderful and talented people for making the writing of this book such enormous fun for me. I can't tell you how happy I am to have written a novel for one of the best television series of all time. All I can say is I can now die a happy man… hopefully not just yet, though!