Bernice Summerfield: Ever After Happy (Excerpt)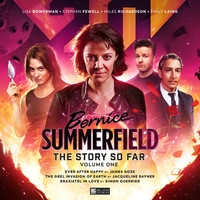 Released September 2018
Prices
Download
US $0.00

Web Special Price!

Synopsis
This extract comes from Bernice Summerfield - The Story So Far Volume 1 released by Big Finish in September 2018, and was originally available as an exclusive download to subscribers of the Big Finish newsletter)
1. Ever After Happy by James Goss
Bernice Summerfield is a young rebel, living in the grounds of a military Academy. The enemy fleet's looking for them, there are strange lights in the sky, and a terrible new gardener called Wintergreen.
Written By: James Goss
Directed By: Scott Handcock
Cast
Lisa Bowerman (Bernice Summerfield / Wintergreen), Emily Laing (Bernice Summerfield), Che Francis (Simon), Robbie Stevens (The Academy Principal). Other parts played by members of the cast.
Producer James Goss
Script Editor James Goss
Executive Producers Jason Haigh-Ellery and Nicholas Briggs