1819. Big Finish Podcast 2018-05-06 ATA Girl and Tom Baker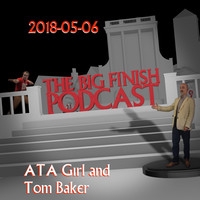 Released May 2018


Synopsis
Nick and Benji have revamped the format (a bit) with an exciting round-up of our latest releases. Plus, news, emails and Randomoid Selectortron (of course!). Guest star: Alicia Ambrose-Bayly (ATA Girl).
Drama tease: The Shadow of London (starring Tom Baker).
So, we blast of with...
Latest Releases - with clips and review quotes, this is your essential guides to what we've released in the last few weeks.
News - Big Finish Day 2018 (at the QUAD in Derby), UNIT: Cyber-Reality and Cicero.
Listener's Emails - another great selection of emails from our loyal listeners. To join in, all you have to do is email us at podcast@bigfinish.com.
Guest Star - Alicia Ambrose-Bayly from our Big Finish Originals ATA Girl. Fascinating, funny and hugely talented.
Randomoid Selectortron - a Big Finish story is randomly selected from the archives to be blatantly plugged! Once again, it's something rather special.
Drama Tease - the first fifteen minutes of Doctor Who: The Shadow of London by Justin Richards and starring Tom Baker and Louise Jameson.
This podcast is released on Sunday 6th May 2018. You can download or stream it now simply by pressing one of those handy little buttons below this text. Go on, it'll be a blast.
Check out other editions of the Big Finish Podcast in the range here, enabling you to put them into your account and listen via the Big Finish Listening app on Apple and Android devices!
Written By: Nicholas Briggs
Directed By: Nicholas Briggs
Cast
Nicholas Briggs (presenter), Benji Clifford (presenter), Alicia Ambrose-Bayly (guest)
Drama tease: The Shadow of London
Tom Baker (The Doctor), Louise Jameson (Leela), Darren Boyd (Hemmings), Timothy Speyer (Fanshaw), Catherine Bailey (Maddox). Other parts played by members of the cast.