2.3X. Class: In Remembrance (Excerpt)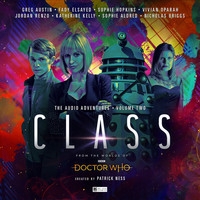 Released August 2018
Synopsis
This excerpt comes from Class Volume 2 released by Big Finish in August 2018, and was first available as an exclusive download to subscribers of the Big Finish newsletter)
A new adventure for the students of Coal Hill Academy, based on the television series created by Patrick Ness.
In Remembrance by Guy Adams
When an alarm is triggered at Coal Hill Academy, Quill and Charlie encounter a mysterious intruder prowling around school premises. Worse, they also encounter a Dalek. Their only hope of survival lies with the stranger: a woman who calls herself 'Ace'…
Written By: Guy Adams
Directed By: Scott Handcock
Cast
Katherine Kelly (Miss Quill), Greg Austin (Charlie Smith) with Sophie Aldred (Ace) and Nicholas Briggs (The Daleks). Other parts played by members of the cast.
Producer Scott Handcock
Script Editor Scott Handcock
Executive Producers Jason Haigh-Ellery and Nicholas Briggs