1.1. Cyberman: Scorpius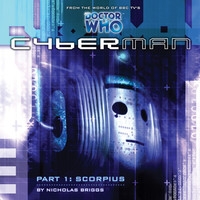 Released September 2005


Prices
Download
US $1.99

Web Special Price!


Synopsis
The human race is about to become extinct.
Mankind is fighting a long and costly war with its android creations in the Orion System. The deadlock must be broken at all costs. The president of Earth must think the unthinkable...
There is nothing to fear...
THIS TITLE IS NOW OUT OF PRINT ON CD.
Written By: Nicholas Briggs
Directed By: Nicholas Briggs
Cast
Sarah Mowat (Karen Brett), Mark McDonnell (Liam Barnaby/Nash), Hannah Smith (Samantha Thorn/Computer), Toby Longworth (Duncan Levinson/Pilot/Public Address/Security/Captain), Barnaby Edwards (Paul Hunt/Comms/Security), Ian Brooker (Heliton/Hendry/Glaust/Karen's Father/Protester), Samantha Sanns (SSC Control/Comp/Helm/Operations Officer) and Nicholas Briggs (Cybermen/CyberPlanner/Control/Guard/Reporter).