1.4. Cyberman: Telos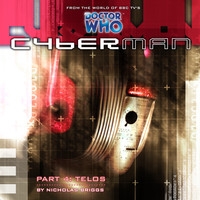 Released December 2005
Prices
CD
US $2.57
Download
US $1.99

Web Special Price!


Synopsis
Now there is a common enemy.
The Earth's government is under Cyber control. The only hope for civilisation is that androids and humans can work together. But the Cybermen intend to activate their Master Hibernation Vault on Telos, releasing billions of Cybermen...
There is nothing to fear...
Written By: Nicholas Briggs
Directed By: Nicholas Briggs
Cast
Sarah Mowat (Karen Brett/Welsh Citizen), Mark McDonnell (Liam Barnaby), Hannah Smith (Samantha Thorn), Toby Longworth (Prime Reordin/Studio Manager), Barnaby Edwards (Paul Hunt/Android), Ian Brooker (Hendry/Spavin), Lizzie Hopley (Brinna/Secretary/Comp) and Nicholas Briggs (The Cybermen/CyberPlanner/CyberLeader)