1. Dan Dare Volume 01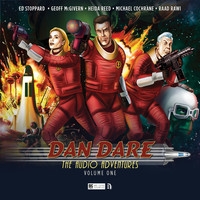 Released December 2016


Prices
CD
US $30.88
Download
US $20.00

Web Special Price!

Synopsis
This title was released in December 2016. It will be exclusively available to buy from the BF website until January 31st 2017, and on general sale after this date.
'Ed Stoppard's Dan Dare and Geoff McGivern's Digby and their fractious relationship that evolves from one of cold distrust to mutual appreciation would have stolen the show if it wasn't for Raad Rawi's planet chewing turn as the narcissistic and megalomaniacal Mekon. Because, and much as we're loathe to admit it, everyone loves a villain and Rawi's Mekon is the epitome of self-serving, cold, logical evil. Welcome back Colonel Dare…' – Tim Cundle, MassMovement
'... a great collection of stories... The cast makes their characters live from the first scenes and the music rounds off a sterling production.' Tony Jones, Starburst
'Ed Stoppard rocked in what could have been the thankless titular role. He had to play a modern variation of the lantern-jawed hero... Stoppard's Dare just got on with things. Thank you very much! I can't wait for the second volume of stories.' SciFi Pulse Raissa Devereux
'I think fans will like the new audio adventures... the characterization of Dan Dare himself, played by Ed Stoppard, is spot on.' Downthetubes
Three audio adventures based on the Eagle comic strip "Dan Dare" created by Rev. Marcus Morris, written and drawn by Frank Hampson
Episode 1 - Voyage to Venus by Richard Kurti and Bev Doyle
Brilliant test pilot, Dan Dare, is chosen to fly the Anastasia - a new experimental spacecraft – on its maiden voyage to Venus. This isn't exploration - it is to make first contact with a mysterious civilisation that has sent technological secrets as a goodwill gesture.
However, what Dan, Digby and Professor Peabody find on Venus isn't goodwill, but a terrifyingly intelligent, cold-hearted ruler, the Mekon. A creature destined to become Dan Dare's nemesis – and Earth's greatest threat…
Episode 2 - The Red Moon Mystery by James Swallow
Unable to return to Earth, Dan Dare and the crew of the Anastasia head to the desolate planet Mars, where Dan's estranged Uncle Ivor is part of a research team working on a top-secret archaeological dig; but when they find the base wrecked and the scientists missing, Dare, Digby and Professor Peabody soon discover that the Red Planet is not nearly as dead as everyone thought and that Ivor's expedition has woken an army of deadly insect-creatures that threaten to swarm and engulf the Earth… Dare must stop the aliens, but can he really resort to genocide in order to save the human race?
Episode 3 - Marooned on Mercury by Marc Platt
When a distress call summons the crew of the Anastasia to the burning wilderness of Mercury, they are reunited with their old ally, Sondar. He tells them of the beleaguered Mercurians who are held in thrall to a cruel new taskmaster - the Mekon! The exiled Mekon is rallying his forces, plotting a desperate revenge against his former homeworld of Venus and his hated enemy, Colonel Dan Dare!
A fourth disc, entitled New Worlds, presents music by Imran Ahmad from Dan Dare and a variety of other B7Media productions.
Written By: Richard Kurti, Bev Doyle, James Swallow, Marc Platt
Directed By: Andrew Mark Sewell
Cast
Ed Stoppard (Dan Dare), Geoff McGivern (Digby), Heida Reed (Professor Peabody), Michael Cochrane (Sir Hubert), Raad Rawi (The Mekon)
Bijan Daneshmand (Sondar), Amber Aga (Treen General), David O'Mahony (Flight Engineer), Kelly Burke (Flight Control/Ergulux), Dianne Weller (Onboard Computer), Hugh Fraser (Ivor Dare), Jake Maskall (Sergeant Scott), Jalleh Alizadeh (Corporal Dajani), Alistair Lock (Crewman Galloway/ Treen Captain), Greg Keith (Doctor Harlan Stoll), Diane Spencer (Teacher), Ryan Sewell (Flamer Spry), Nicholas Briggs (Garlock)
Associate Producer Fiona McAlpine
Development Producer Patrick Chapman
Series Script Editor Colin Brake
Executive Producer Simon Moorhead
Producer/Director Andrew Mark Sewell
Executive Producers for Big Finish Nicholas Briggs and Jason Haigh-Ellery
A B7 Production in association with Big Finish